Our dedicated team focused on the Americas market is ready to support you via our intelligence platform and help you extract valuable insights.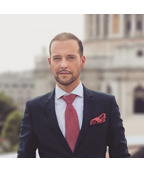 Raul Enciso-Portoles
Head of Sales Americas, SRP LinkedIn
E: raul@structuredretailproducts.com
Raul leads business development and client relationship activities in the Americas market at SRP. In this role, he is responsible for servicing, managing and building multi-level, proactive relationships with SRP's client base, and acts as a primary contact for investment banks, issuers, distributors and service providers.
Since joining SRP in 2010, his managerial and analytical experiences in developing both client relations and the SRP dataset have spanned across EU and international structured product markets.
Currently residing in London and originally from Spain, Raul previously served in a blend of managerial roles, including as managing director for a service supplier to the Volkswagen Group. He holds an industrial engineering degree with a specialisation in quality management systems from the Universidad Pública de Navarra, Spain.

Petar Dimitrov
Head of Data Americas, SRP LinkedIn
E: petar.dimitrov@structuredretailproducts.com
Petar manages data operations for the Americas where he is responsible for growing and servicing the renowned SRP data set to power clear decision-making.
Having joined SRP in 2020 to develop the data offering in SRP's APAC and European markets, his current focus revolves around Latin and North America, where he leads a team of data analysts to ensure robust coverage and governance of the Americas dataset in accordance with SRP's quality guidelines.
Petar holds a degree in applied linguistics and is fluent in Japanese. Prior to joining SRP, he taught languages internationally and carried out academic research in Osaka, Japan.
---

Meet us at SRP Americas 2022
Join us for in-depth, market-driven content and exciting networking opportunities at SRP Americas 2022 14-15 September.