The bank posts a positive operating leverage for the 18th consecutive quarter as it doubles its issuance of structured products in the USA.
Bank of America has reported record earnings of US$7.3 billion during the second quarter of 2019, an increase of eight percent year-on-year.
Fixed income, currencies and commodities (FICC) revenue of US$2.1 billion decreased eight percent, primarily due to lower client activity across most products while equities revenue of US$1.1 billion decreased 13% due to weaker performance in Emea derivatives versus a stronger year-ago quarter, according to the bank.
The bank's balance sheet included US$35 billion of structured notes and liabilities for the second quarter of 2019, compared to US$31.4 billion and US$31.4 billion for the first quarter of 2019 and second quarter of 2018, respectively.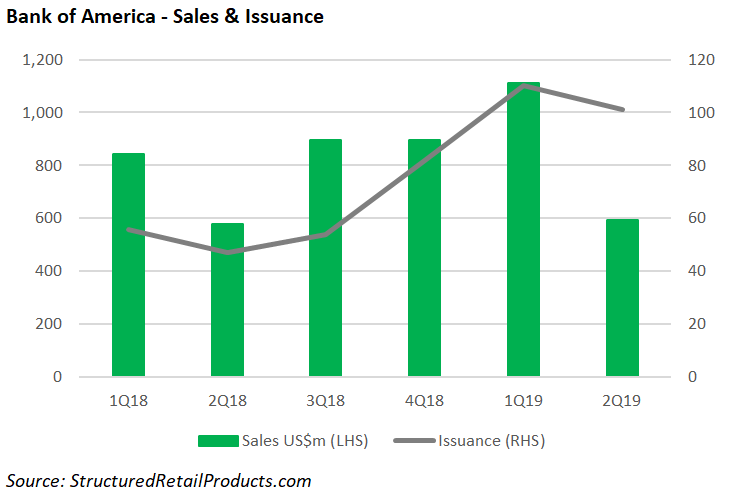 Bank of America issued 100 structured products (via its BofA Finance vehicle) worth US$594m between April 1 and June 30 2019, significantly up in issuance, but almost level in sales compared to 47 products worth US$579m that were provided by the bank in the same period last year, according to SRP data.
Fifty percent of the sales in the second quarter, or US$294m, came from 38 products linked to a single equity index, including structures linked to the S&P 500, Russell 200, Hang Seng China Enterprises, and S&P 500 Low Volatility High Dividend Index.
A further US$208.7m was collected from 49 products linked to a basket of indices while there were also products linked to a share basket (eight); single share (two); and the interest rate (two).
The products were distributed via six different providers of which Merrill Lynch, with sales of US$515m from 68 products, was the most prolific. Other distributors in the quarter were Advisor Asset Management (13 products), Goldman Sachs Private Banking (11), Incapital (five), FISN (two), GS Finance (one).
Merrill Lynch, the bank's investing and wealth management division, was also responsible for the 10 best-selling products in the USA during the quarter. The list was topped by Accelerated Return Notes 06417P322, which were issued via Scotiabank and sold US$145.8m at inception. Nine of the products which made up the Top 10 were linked to the S&P 500, with the remaining product, BofA Finances' Cash-settled Equity Linked Notes 09709TGZ8 (US$69m), tied to the commons stock of Dow Inc.
'Our commitment to responsible growth resulted in the best quarter and first-half year of earnings in our company's history,' said Brian Moynihan (pictured), chairman and CEO.
'The return on assets was over 120 basis points and our return on equity was well above the firm's cost of capital […] our view of the economy reflects the activity by the one-in-two American households we serve, which points to a steadily growing economy.'
Click the link to view the Bank of America 2Q19 results, presentation and supplement.