Barclays, Goldman Sachs and Morgan Stanley first to move as the German bank begins to offload parts of its equity derivatives book as it implements the restructuring of its equities-trading activities.
Deutsche Bank has sold parts of its equity derivatives portfolio with Barclays, Goldman Sachs Group and Morgan Stanley taking the European, Asian, and US trading books, a Deutsche Bank spokesperson has confirmed.
The German lender is offloading the equity derivatives book as part of a restructuring that includes the sale of its equities sales and trading and other struggling businesses such as its Jaguar equities strats platform, its hedge fund-focused prime brokerage unit - which was sold to BNP Paribas earlier this month, and its fixed-income sales and trading unit.
Opportunistically, in the short term, Deutsche's exit from the market is "obviously good for competitors because they can build up some market share", a former Deutsche Bank senior equity derivatives executive told SRP.
"Politically, and for the industry in general, it is not good," he said. "Having the two biggest German banks stepping away from the equity derivatives business is really bad for the German market."
Deutsche Bank's equity-derivatives business has struggled over the last few years despite being one of the top European manufacturers of structured products (105,971 issuances marketed across Europe YTD worth an estimated US$1.2 billion) and the fourth provider in Germany (105,892 products / US$425m).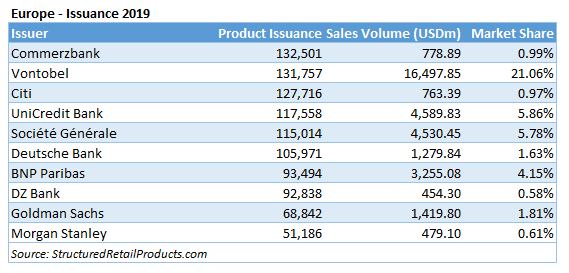 In order to change the direction of the business, the German bank hired Peter Selman as global head of equities at the end of 2017. The former Goldman co-head of global equities trading and execution services, set aside over US$1 billion to cover the cost of offloading derivatives moved to the bank's capital restructuring unit (CRU) or "bad bank".
As part of the restructuring, the German bank has moved US$316 billion euros of assets into the bad bank of which equities, including equity derivatives, accounted for around US$186 billion of those assets. Fixed-income assets, including long-dated interest rate and credit derivatives, accounted for US$86 billion. The German bank's auction includes its flow equity derivatives as well as its exotic derivatives book, SRP has confirmed.
Recent changes
Deutsche Bank has made a number of changes to its equities division over the last year to 'reinforce clear lines of accountability across products and regions' after 'significant progress in reorienting' the business' focus on sustainable profitability'.
Under the new structure, Mark Chen and Remy Ripoll are responsible for the equity derivatives business line following their appointment as co-heads of global equity derivatives. Equity trading is managed by Karim Moussalem and Richard Chung, as co-heads of global equity trading; and prime finance under Matt Bowen and Angus Yang, as co-heads of global prime finance.
Despite the decision to exit equity derivatives, Deutsche has continued to hire senior equity derivatives executives. Earlier this year, the German bank bolstered its European equity derivatives sales team with the appointment of former Goldman banker David M. Ryan as head of equity derivatives sales in Europe and Eric Bensoussan as head its European equity derivatives structuring.
The German equity derivatives market remains a very competitive landscape with 18 issuers active and a huge number of products - 1.8 million are listed on exchange, a German structured products banker told SRP.
The radical restructuring plan set in motion by chief executive officer Christian Sewing (pictured) which includes downsizing Deutche's investment bank and aims to cut total costs by a quarter by 2022, is seeking to improve profits, reduce the balance sheet and drive long-term growth.
Deutsche Bank posted a second quarter net loss of €3.1 billion after strategic transformation charges including impact from lowered outlook on business plans of €3.4 billion.