The sales of equity-linked securities (ELS) in South Korea has plunged nearly 37% to KRW 31.56 trillion (US$ 26.32 billion) in the first half of the year, compared to H2 19.
Year-on-year, sales also saw a decrease of 33.8% from KRW 47.66 trillion, according to the Korea Depository Securities.
The ELS outstanding value rose by 8.7% to KRW 77.23 trillion from H2 19 and by 1.4% from a year earlier during the January to June period.
In addition, the repayment amount reached KRW 25.5 trillion, a 55.5% decrease on H2 19. The amount for early redemption fell by 56.1% to KRW18.34 trillion from H2 19.
The early redemption volume is a key indicator of structured products in South Korea where autocallables are dominant. Investors are likely to buy a new product, or 'roll-over' the investment, if the product is redeemed earlier than the maturity date. This, in return, boosts the sales as the capital invested returns to the market.
According to the Korea Depository Securities, 81% of the products issued during the first half of 2020 were brought to market via public offering programmes while 19% were private placements.
By underlying, equity indices accounted for 84% of the issuance while equity stocks made up 13.94% with the remaining as hybrids of funds, exchange-traded notes (ETNs) and exchange-traded funds (ETFs).
Sales of products tied to the S&P 500 and Eurostoxx 50 reached KRW 20.47 trillion and KRW 19.29 trillion, representing a decrease of 40.9% and 36.3% from H2 19, respectively. These two indices are followed by Hang Seng China Enterprises Index (KRW 12.71 trillion), Kospi 200 (KRW 10.71 trillion), Nikkei 225 (KRW 8.52 trillion) and Hang Seng Index (KRW 2.22 trillion).
Domestic and overseas shares made up 96.5% (KRW 4.24 trillion) and 3.5% (KRW 1.54 trillion) of the equity linked issuance, respectively.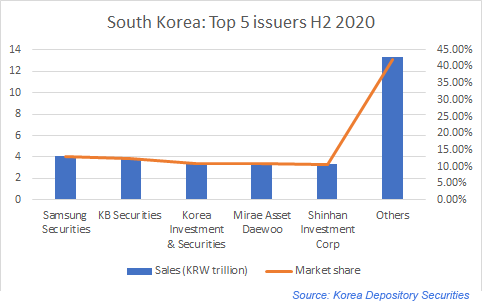 Among the top 10 underlyings used in the products with strike dates between January and June in South Korea, seven were index baskets with one linked to a single index (Kospi 200), one certificate of deposit and one linked to individual shares (Korea Electric Power), SRP data shows.
During the period, the basket comprising the Eurostoxx 50, Hang Seng China Enterprises Index and S&P 500 remained the most favoured underlying with 1,559 products, including the best-selling note KB Investment & Securities' KB ELS 6741, as SRP reported.
Click here for the press release (in Korean) from Korea Depository Securities.