US banks Wells Fargo and Citigroup have both reported significant losses in the second quarter of 2020 from the same period in 2019, highlighting the ongoing struggle to repair the damage caused by the Covid-19 pandemic.
Citi saw its net income plummet by 73% from US$4.8 billion in Q2 19 to US$1.3 billion in the second quarter of 2020. However, the bank's revenue did experience a boost reaching US$19.8 billion from US$18.8 billion in Q2 19.
As a distributor, Citi had a testimonial presence in the US market with just one structured product valued at US$62 million in the first quarter of 2020. During the second quarter, the bank issued six products valued at a lower volume of US$13m.
As a manufacturer, the bank was the second most active issuer in Q2 with 660 products worth US$1.93 billion (12% market share) compared to 641 products worth US$1.99 billion during the previous quarter. Year-on-year, Citi has increased its issuance (384 products) and sales (US$1.2 billion).
The bank's two main issuing entities, Citigroup and Citigroup Global Markets, have distributed 523 products across major markets such as Hong Kong SAR, US, Finland and Italy. The majority of the products are wrapped as warrants, notes, certificates and registered notes (unlisted). The most popular underlyings include the German Dax, Meituan Dianping, Tencent Holdings, and Alibaba. Most of the investments are classified as equity (single share, single index, share basket, index basket) and alternatives.
During the second quarter, Citi recorded losses in revenues across all its major markets that include North America (four percent), Emea (two percent), Latin America (14%) and Asia (seven percent) quarter-over-quarter.
Operating expenses totalled US$10.4 billion, a slight decrease of one percent since efficiency savings, lower marketing, and other discretionary expenses more than offset higher compensation expense, investments, and Covid-19 related expenses.
Markets and securities services revenues saw a notable climb of 48% from Q2 19 totalling US$6.9 billion with fixed income markets raking in a 68% growth of US$5.6 billion. This reflected strength in rates and currencies as well as spread products and commodities.
Equity markets revenues dropped by three percent to US$770m as the performance in cash equities was offset by lower income in derivatives and prime finance.
The bank's chief executive officer, Michael Corbat (pictured) stated that regardless of higher credit costs, the firm's overall business performance was strong during the quarter.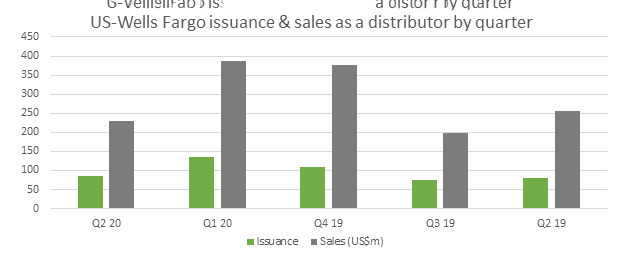 Wells Fargo suffered a net income loss of US$2.4 billion which includes a drastic increase of US$8.4 billion in credit loss reserve. This reflects the current and forecast macroeconomic conditions.
SRP data shows that Wells Fargo has distributed a total of 1,033 live products listed domestically. The investments are wrapped as structured annuities, registered notes (unlisted) and certificates of deposit. Some underlyings are the S&P500, Russell 2000, Eurostoxx 50, and the DJ Industrial Average Index.
However, the number of products marketed during Q2 20 (85 products/US$230m) saw a significant decrease compared to the first quarter (162 products/US439m). Wells Fargo remains a marginal player as a manufacturer.
Wells Fargo reported a drop in revenues to US$17.8 billion from the second quarter of 2019 when revenues stood at US$21.6 billion. Operating losses currently stand at US$1.2 billion 'reflecting customer remediation accruals'.
Net interest income tumbled by US$2.2 billion to US$9.9 billion while non-net interest income is valued at US$8 billion after sliding US$1.5 billion.
Total risk-weighted assets decreased to US$1.22 billion from US$1.26 billion in Q1 20 and US$1.25 billion in Q2 19. Total derivative liabilities grew from Q4 19 to US$11.4 billion from US$9.1 billion.
Wells Fargo's sales volumes in terms of distribution have decreased from Q2 19 with an issuance of 85 structured products valued at US$230 million from 80 products which sold for US$256 million. The bank showed significant growth in the first quarter of 2020 before the market crash with an issuance of 136 products at US$386 million.
Click here to view Wells Fargo's second quarter results.
Click here to view Citi's second quarter results.