Desjardins has won 'Best House, Canada' at this year's SRP Americas awards.
The Canadian financial services provider was rated by buy-side firms on price competitiveness; innovation & structuring capability; and understanding client needs & aftersales support, while SRP also considered sales volumes of 592 structured products from the company with strike dates between 1 March 2019 and 29 February 2020.
Desjardins deserved the award for many reasons, according to Frederick Tremblay (pictured), director, equity derivatives & structured products, Desjardins Wealth Management & Life Insurance
"We had really good numbers in 2019, it was one of our best years ever," said Tremblay.
"I think diversification across stock markets and payoffs helped to differentiate Desjardins products line-up from our competitors," he said.
We reintroduced the rainbow payoff on certain equity-linked certificate of deposits
In addition, the company ramped up its client-centric approach in different ways. It implemented various communication points with clients to discuss market conditions, sale practices and to present educational tools.
"We also have developed a new online training tool which has been really helpful during the Covid-crisis. Over the last few years, we have built a strong partnership with our clients and I think we just began to get some results from this."
Despite a turbulent start of the year, with extreme volatility and a Covid-induced market crash, 2020 has been surprisingly good for Desjardins, according to Tremblay.
"We saw a significant dip in gross sales during the lockdown in Canada but it came back to a more normal level quite rapidly.
"This trend slowly vanished while product features deteriorated significantly with low interest rates and high volatility. Now that most asset pricing normalised, it will be interesting to watch this trend in the last quarter," said Tremblay.
During the height of the crisis, Desjardins did, however, somewhat adapt its strategy.
"We reintroduced the rainbow payoff on certain equity-linked certificate of deposits," said Tremblay, adding that the rainbow formula excludes the best and worst performers from a basket to calculate the return. "It stabilises the volatility of basket returns."
"We also launched an equity-linked CD on health care stocks. The health care basket was both a thematic play and the basket was cheaper than our global stocks basket. Finally, as many competitors, we issued products with longer maturity," said Tremblay.
Our client base is getting more sensitive to market conditions
Another theme that is a big focus for Desjardins right now is ESG and responsible investing.
"It's part of our DNA," said Tremblay. "This is true all across the board for principle protected notes, equity-linked CD's, mutual funds and ETF's.
"Sustainable development goals are getting more part of discussion with clients. They want to invest in a way that matters and we have many responsible investment solutions that can help to fulfil their objective," he said.
Although the company's issuance exists of fully capital protected products only, and with a client base "probably" more risk averse than the rest of Canada, Tremblay is not ruling out the launch of capital-at-risk products in the future.
"Proof is that other Canadian financial institutions are selling a lot of principal-at-risk notes.
"Our client base is getting more sensitive to market conditions and therefore, we feel more demand for principle-at-risk-notes. We're taking this trend really seriously," he said.
For 2021, Tremblay is expecting that low interest rates and high volatility "are poised to stay for a while" and structurers will have to continue to be creative.
"New trends should emerge. Obviously, principal-at-risk notes will continue to attract more investors but I won't be surprised to see new payoffs or new types of issuance to compensate tight market conditions.
"Responsible investment will also continue to attract flows from investors," Tremblay concluded.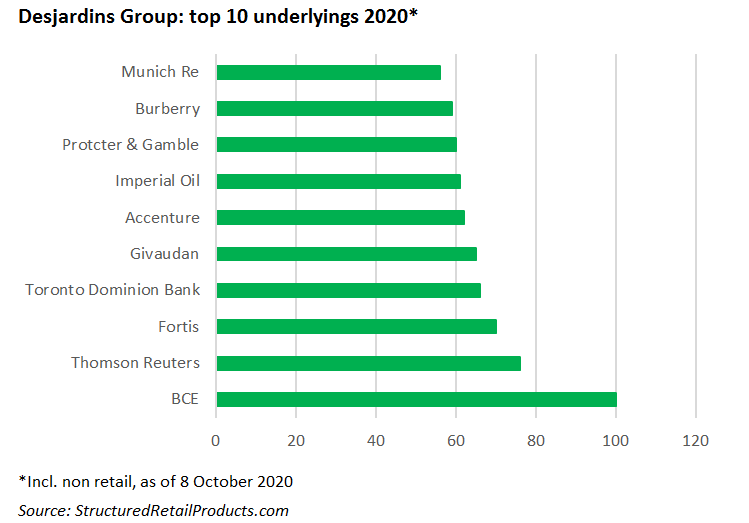 Desjardins Group has issued 262 structured products in 2020 to date. The products, which offer 100% capital protection or more, are predominately linked to share baskets (207 products). The most used underlyings were the shares of Canadian media companies BCE and Thomson Reuters (seen in 100 and 76 products, respectively), while the stock of utility firm Fortis (70) was also in demand.