Thailand's structured products market has seen a fall in activity with the main two providers delivering mixed performances
The subsidiary of Kiatnakin Phatra Financial Group has kept a safe lead with 884 structured notes issued during the first nine months of 2020, despite a 74% plunge YoY amid an overall scaledown in Thailand. It was followed by Siam Commercial Bank and CGS-CIMB Securities.
This brings a total sales volume of THB2.84 billion, or a market share of 28.6%. Compared with the same period in 2019, the broker-dealer recorded 2,405 notes worth THB8.82 billion, a market share of 31%.
With a tenor no longer than six months, the reverse convertible notes (RCNs) were sold to Thai and international institutions, and offered no capital protection.
Food and beverage replaced healthcare as the most favoured underlying sector while the number of products linked to financial services rose to 12 from one, making it the eighth popular choice after oil and gas, healthcare, utilities, real estate and basic resources.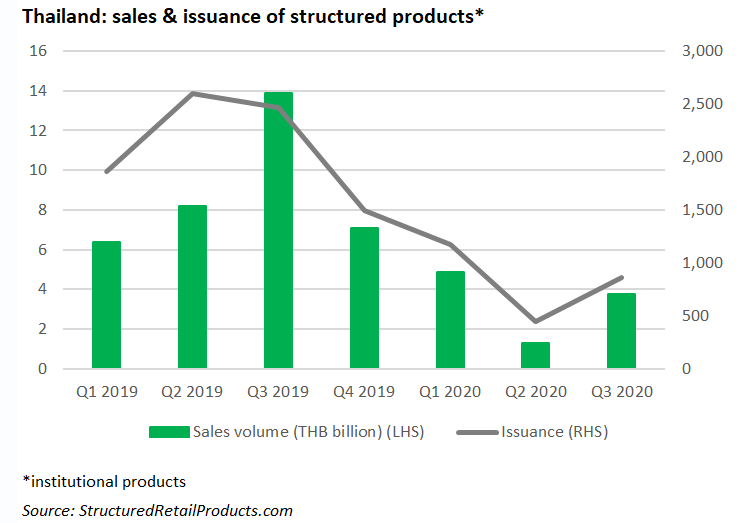 Kiatnakin Phatra Securities, which holds 99% of shares in Phatra Securities, posted a fees and services income of THB22m in the third quarter ended on 30 September, down 18.5% YoY, leading to that of THB68m in the nine months.
Expenses rose to THB44m from THB33m in the quarter YoY, bringing those to THB130m from THB94m in the nine months.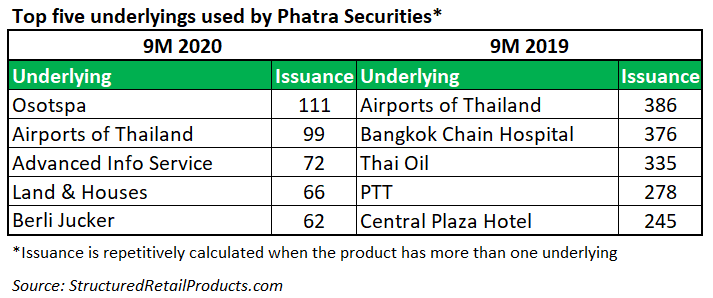 Siam Commercial Bank (SCB)
Unlike most issuers in Thailand, SCB posted an advanced volume with 369 products issued in 9M 20, up 49.4% YoY, a market share of 18.78% through a sales volume of THB1.87 billion.
The top favoured underlying sectors remain the same for the largest commercial bank in country – oil and gas as well as basic resources. Travel and leisure made it to the third with 20 products linked to it while G10 currencies were unseen after they were tied to 11 products in 9M 19.
Besides RCNs, the bank issued 14 dual currency notes linked to USD/THB, down from 27 in 9M 19. The majority of them had an investment period of 30 days while two had a year. They were sold at US$ 13.64m-equivalent.
Net profit at SCB dropped by 68.9% to THB4.58 billion in the third quarter YoY, leading to a figure of THB22.1 billion in 9M 20, down 36.6% YoY.
CGS-CIMB Securities
The 50-50 joint venture between China Galaxy Securities and CIMB Group has issued 120 products for international and Thai institutions during the period from January to September, a slump from the 1,088 products YoY.
All the products are RCNs. Thai Oil was the most popular underlying with 21 notes tied to it, but they only contributed US$1.2m while 11 notes linked to Airports of Thailand brought in US$7.89m.
Image: Tan Kaninthanond/Unsplash.