The South Korean securities house has seen its structured products business regain traction after three consecutive quarters of decline.
Mirae Asset Daewoo's equity-linked securities (ELS) and derivative-linked securities (DLS) have recorded sales KRW1.66 trillion (US$1.49 billion) and KRW0.44 trillion with a market share of 16.4% and 4.6%, respectively, in Q4 FY20 ended in December 2020 after a continuous decline since the first quarter.
However, full-year issuance of ELS and DLS at KRW8.14 trillion stands at nearly half of the amount recorded in 2019, according to the firm's FY20 financial report.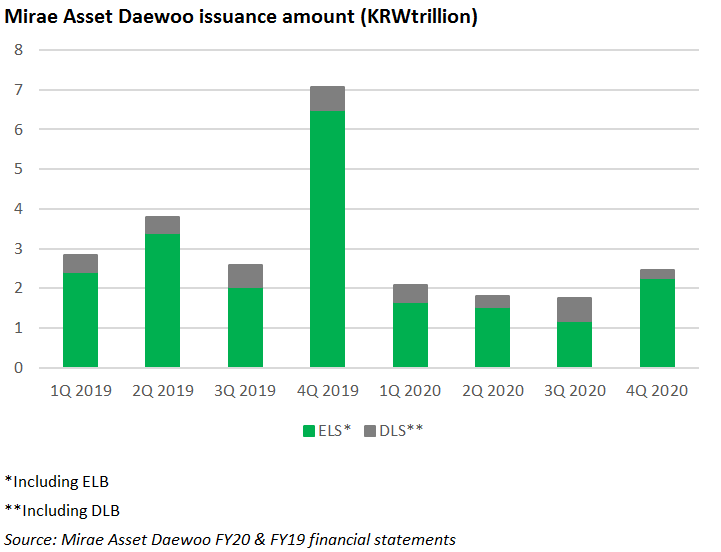 As of the end of 2020, the balance of ELS and DLS reached a record high of KRW7.54 billion, up KRW0.72 trillion quarter-on-quarter (QoQ) or up KRW0.66 trillion year-on-year (YoY), which represents 5.5% of the balance of total wealth management (WM) products comprising mutual funds, wrap accounts, trusts and pensions, ELS and DLS.
By division, WM revenues rose by KRW4.2 billion to KRW61.3 billion while trading income grew by 50% to KRW370.8 billion QoQ. Together both accounted for 58.3% of the total revenue from brokerage, WM, investment banking, trading income and interest income.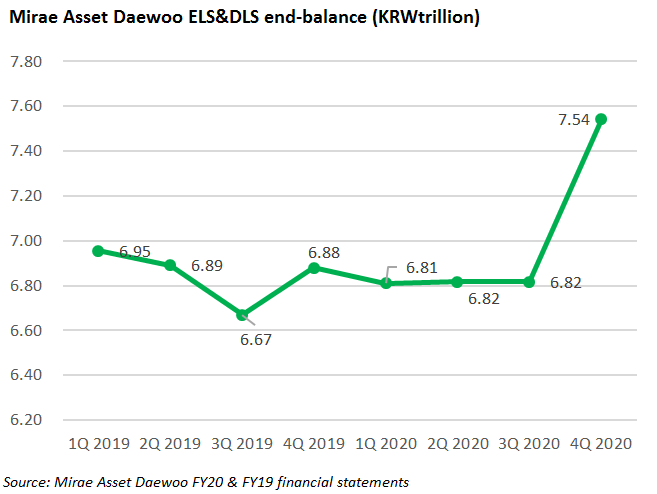 The growth of trading income was driven by 'fair value increase of invested assets and preemptive risk management which lead to increase in early redemption and continuous issuance of derivative-linked products and build diversified credit portfolio,' stated Mirae.
Derivatives instrument issuance within the trading division soared to KRW7.5 trillion from KRW1.8 trillion QoQ, 92% of which was ELS while eight percent was DLS, bringing the full-year issuance to KRW14.2 trillion, lower than the KRW16.3 trillion in 2019. Total redemption also dropped to KRW14.2 trillion from KRW17.8 trillion YoY.
On a consolidated basis, net profit fell by 26.6% to KRW167.7 billion in Q4 QoQ, leading to KRW804.6 billion in 2020, up 22.1% YoY.
Despite the growth, derivative transactions took a hit in Q4 as a 18.4% increase of gains at KRW1.21 trillion was offset by a 41.1% loss of KRW1.29 trillion.
Mirae Asset Daewoo also reported a decrease of OTC derivatives held for hedging by 4.1x to KRW32.9 billion, exchange-traded derivatives by 11.3% to KRW58.7 billion and ELS/DLS by 12.2% to KRW655.7 billion compared with a quarter ago. Meanwhile, OTC derivatives rose by 19.6% to KRW1.32 trillion.
The largest investment banking and stock brokerage company by market capitalisation in South Korea, headed by Hyun Man Choi (pictured), had a retail investor portion of 77.6%, foreign investor of 11.8% and institutional investor of 10.6% as of the end of 2020.
Transformation
Mirae Asset Daewoo is eyeing overseas assets as domestic investment 'has entered into a low-growth phase'.
'Structured products such as ELS also increasingly utilize overseas assets as underlying assets, reflecting further development of financial product structure,' according to the report.
Efforts around digital transformation included automation in the trading division which houses the hub for sales and trading of equity and fixed income, currency, and commodity (FICC) derivative products.
'We have built a new trading infrastructure, around the Busan Internet Data Center (IDC), and began to prepare for setting up our global trading desk,' stated the report. 'We also established a market using an algorithm trading system and generated profits through arbitraging, while improving the competitiveness of structured products by making efforts to develop hybrid and FX-linked products and increasing the efficiency in FICC.'
Last year, the company launched a monthly payment fund and derivatives-linked securities (ELS and DLS) as a product line targeted at retirees seeking to secure living expenses. Examples include a high-yield Brazil monthly coupon bond trust that pays the coupon monthly and the Mirae Asset Daewoo Golden Age WRAP which invests in various assets while paying monthly returns.
Q4 products
Despite an overall scale-down in the South Korean market, Mirae Asset Daewoo remained the fourth most active issuer and distributor by issuance in 2020 and marketed 546 products in the form of ELS (430), equity-linked bonds (80) and derivative-linked bonds (36) in Q4 – translating to 28.3% of its full-year issuance, SRP database shows.
In addition to traditional global indices, the issuer deployed other underlyings including Samsung Electronics (104 products), Certificate of Deposit Rate 91d (35 products), CSI 300 Index, S&P 500 NDF KRW Hedged Index (27 products) and HSCEI KRW Hedged Index (27 products) among the 19 types of assets used between October and December 2020.
Seven payoffs were featured in the period with the worst of option (262) taking the lion's share, followed by autocall (225), protected tracker (225), digital (87), accrual (43), range (43) and uncapped call (6), SRP database shows.
Click the links to read Mirae Asset Daewoo's FY20 annual report and Q4 FY20 financial statement.