Few markets are dominated by a single underlying asset to the extend of Mexico, where FX rates were responsible for almost 80% of the volumes sold in the first nine months of 2021.
Some 4,614 structured products worth MXN244 billion (US$11.9 billion) had strike dates in Mexico during 9M2021 – slightly up by issuance (185 products) but down 12% by sales volumes compared to the same period in 2020, according to SRP data.
FX rates were the underlying asset of choice for the Mexican investor, featuring in 3,828 products worth a combined MXN238 billion – the equivalent of a 78.9% share of the market. Monex was the main provider (3,064 products), followed by BBVA (673), Santander (52), and Banamex (39).
All FX products were linked to the appreciation of the US dollar relative to the Mexican peso. Among them the best-selling Double No Touch 1.2% pa deposit, which sold MXN4.2 billion during its subscription period. It has a maturity of just one week and offers a coupon of 1.2% pa. if the USD/MXN remains between two barriers [19.827 and 20.063].
Single shares, which held a market share of 13.1%, came second in the rankings. The 525 products tied to a single stock achieved sales of MXN32 billion, with structures linked to Amazon (MXN3.9 billion from 57 products), PayPal (MXN2.5 billion from 22 products), and Nvidia (MXN2.3billion from 29 products), accumulating the highest volumes. In total, 97 different stocks were used in the period.
Next up was the interest rate with a five percent share of the market. It was seen in 68 products (MXN12 billion) that were mainly range accruals tied to the Interbank Equilibrium Interest Rate 28 days (TIIE 28).
Finally, there were also a small number of products linked to ETFs (128/MXN4.6 billion) and equity indices (36/MXN2.4 billion). The former included 55 products linked to the Invesco QQQ Trust Series 1 (MXN2.4 billion) while the index that generated the highest sales was the proprietary Solactive BBVA Next Generation Networks MXN Risk Control 10% Index, seen in five products worth MXN850m.
Check out the below pie-chart for the preferred underlying assets of the Mexican investor.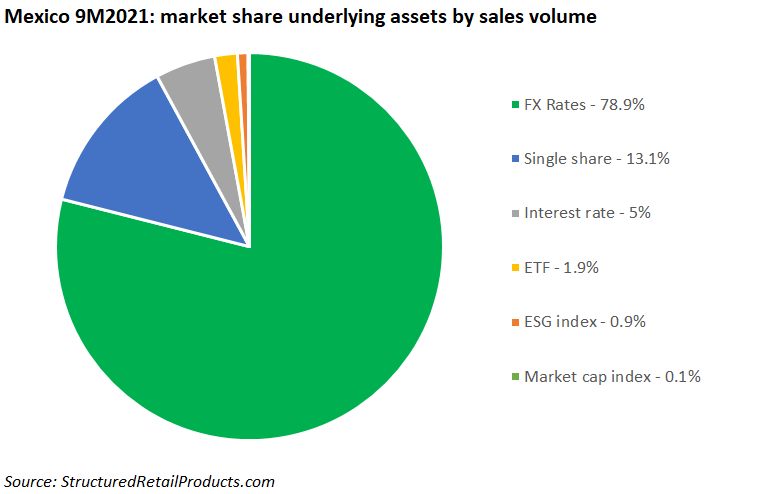 Image credit: Ivan Diaz/Unsplash