Monex and BBVA dominated the market with their currency-linked products.
Some MXN300 billion (US$14.9 billion) was collected from 5,612 structured products that were issued in Mexico during 2021.
Volumes were down 12% on the previous year (2020: MXN348 billion from 5,866 products) with almost 80% of all sales coming from products tied to FX rates (MXN233 billion).
There were five issuer groups active during the year.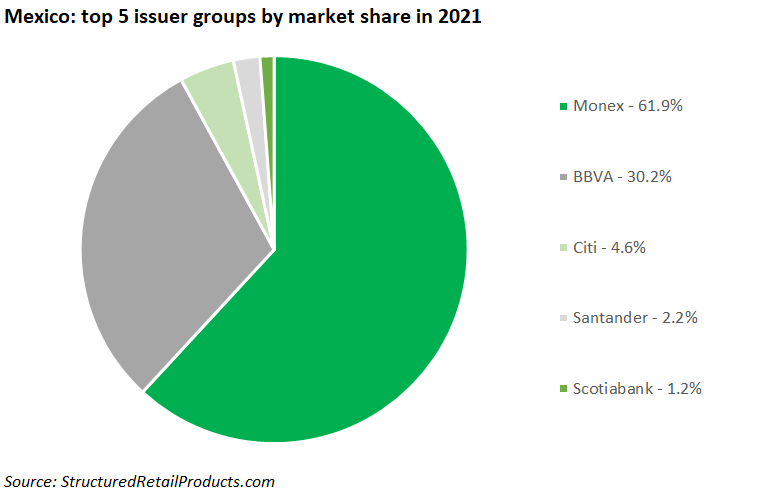 Monex was the main issuer in the market. The Mexican financial group sold 3,719 products worth a combined MXN185.6 billion between 1 January and 31 December 2021 – the equivalent of a 61.9% share of the market.
The company's products were a mix between certificates of deposit and structured bonds featuring accrual, range, digital and dual currency payoffs. All of Monex' products were linked to the appreciation of the US dollar relative to the Mexican peso.
BBVA México, in second, held a 30.2% share of the market. It achieved sales of MXN90.5 billion from 1,599 issued products, which, apart from deposits and bonds, also included 540 warrants. Payoffs were a mixture of autocalls, dual currency and reverse convertibles.
The bank, which between 2000-2019 was known as BBVA Bancomer, was also responsible for the best-selling product of the year, which came in the shape of the ASWP Spread Note. The three-month spread option was linked to corporate bonds and sold MXN4.8 billion during its subscription period.
In third place, Citi claimed a 4.6% market share. It sold 143 products (MXN13.8 billion) via its Banamex subsidiary. Approximately halve of its issuance was linked to the USD/MXN currency pair with dual currency the preferred payoff.
Banco Santander and Scotiabank held a market share of 2.2% and 1.2%, respectively. The former collected MXN6.6 billion from 114 products, which included an American warrant on the Financial Select Sector SPDR ETF (MXN37.6m).
Meanwhile, Scotiabank accumulated sales of MXN3.5 billion from just 37 products. It was the sole issuer in Mexico that did not offer any dual currency products, instead focusing on autocalls, reverse convertibles and even the odd capped- and uncapped call.
Disclaimer: data refers to public distribution products only.