Structured product sales got off to a slow start in 2022 with BBVA the only issuer that increased its market share.
The 1,074 structured products issued in the first quarter achieved combined sales of MXN64.3 billion (US$3.1 billion) – the lowest volume in an opening quarter since Q1 2018 and a decrease of 21.3% compared to the prior year period (Q1 2021: MXN81.7 billion from 1,484 products).
Despite a drop in sales, average volumes, at MXN59.8m, were 8.5% higher than those in Q1 2021 when products sold on average MXN55.1m.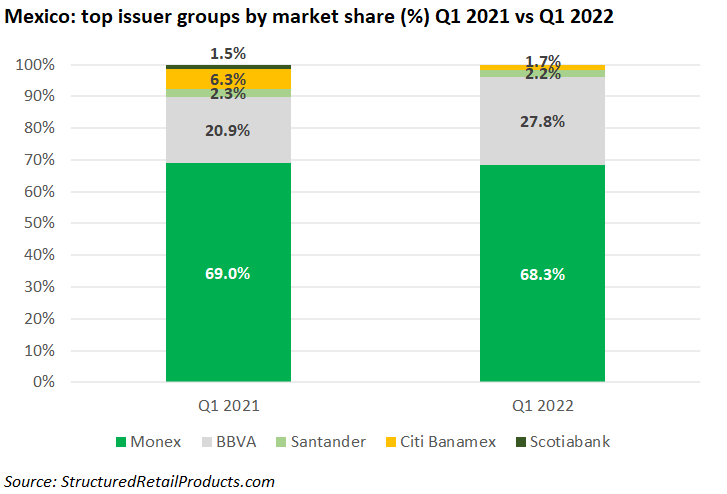 Once again, Monex dominated the market. The Mexican financial group sold 851 products worth MXN43.9 billion between 1 January and 31 March 2022 – the equivalent of a 68.3% share of the market and almost on par with last year (Q1 2021: 69% market share).
The company's products were exclusively linked to the USD/MXN currency pair and featured accrual, range, digital and dual currency payoffs.
BBVA Mexico, in second, saw its market share increase to 27.8%, up almost seven percent year-on-year (YoY). It collected sales of MXN17.9 billion from 165 issued products.
The bank, which between 2000-2019 was known as BBVA Bancomer, was also responsible for the best-selling product of the quarter, which came in the shape of a dual currency note linked to the appreciation of the US dollar relative to the Mexican peso that sold MXN1 billion.
Apart from the USD/MXN, which it used in 142 products, BBVA implemented 11 other underlyings, including the interbank equilibrium interest rate (TIIE 28), S&P/TSX 60 Index, the proprietary Solactive BBVA ixESG Lideres Globales MXN Risk Control 10% Index, and eight different exchange-traded funds (ETFs).
Santander claimed 2.2% of the market, level on last year. It accumulated sales of MXN1.4 billion from 29 products that were either dual currency notes or range/accruals on the USD/MXN.
The only other issuer active in the quarter was Banamex, a 100% subsidiary of Citi, which sold 29 products worth MXN1.1 billion (1.7% market share, a decrease of 4.6% YoY). Once again, the bulk of the issuance was tied to the USD/MXN (28 products), with the remaining product linked to iShares Silver Trust ETF.