Nordea, Goldman and BNP Paribas all significantly increased their market share in the first quarter of 2022.
Some SEK1.8 billion (US$187m) was collected from 115 publicly offered structured products during Q1 2022 in Sweden – down 25% by sales volume year-on-year (Q1 2021: SEK2.4 billion from 141 products).
Average volumes, at SEK15.9m per product, were fairly stable compared to Q1 2021 when products sold on average SEK17.3m.
Ten different issuer groups, a mixture of Nordic financial institutions and European/US investment banks, were active in Q1 2022, compared to 16 in the prior year quarter.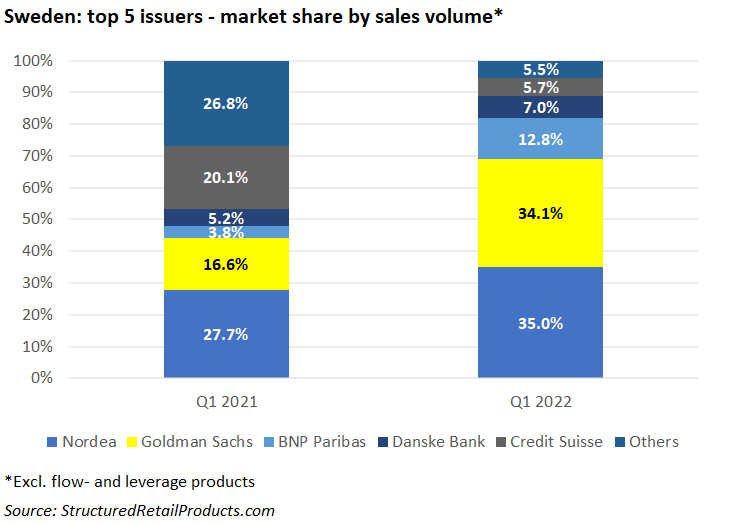 Nordea retained its position as the number one issuer with a 35% share of the market – an increase of more than seven percent YoY. The bank collected SEK643m from 34 products that were predominately autocalls linked to a basket of shares. It also sold six credit-linked notes.
In second, Goldman Sachs increased its market share to 34.1%, up 17.5% from Q1 2021. The US investment bank achieved combined sales of SEK625m from 41 products (Q1 2021: SEK405m from 24 products). Like Nordea, almost all its products were linked to a share basket.
BNP Paribas was another issuer that saw a significant growth in its market share – from 3.8% in Q1 2021 to 12.8% in Q1 2022. All of its products were distributed via Strivo (formerly know as Strukturinvest) with the exception of Kreditcertifikat Investment Grade Europa Kvartalsvis nr 4423, which was available via Garantum. This 5.8-year credit-linked note was the best-selling Swedish product of the quarter, collecting SEK70m during its subscription period.
Danske Bank claimed seven percent of the market (Q1 2021: 5.2%) while Credit Suisse, which had captured 20.1% in the first quarter of 2021, had to make do with a mere 5.7% this year.
Natixis, Investec, Crédit Agricole, EFG Group, Citi, and Barclays, which had a combined market share of 7.1% in Q1 2021, were all absent this year.