Large French institutions claimed a share of more than 75% in what was a bumper quarter for the market.
An estimated €11 billion was collected from 945 publicly distributed structured products during the first quarter of 2022 – an increase of almost 200% by sales volume compared to the prior year quarter (Q1 2021: €3.8 billion from 624 products).
Thirteen different issuer groups were active in Q1 2022 – they were a mixture of large French financial institutions and European/US investment banks.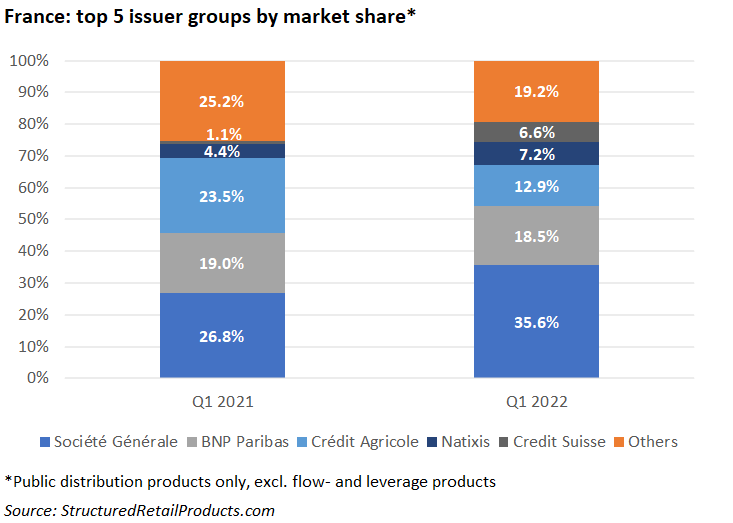 Société Générale was the number one provider with a 35.6% share of the French market – an increase of 8.8% compared to Q1 2021. It accumulated estimated sales of €4 billion from 331 publicly distributed products, which were almost exclusively issued on the paper of SG Issuer, its Luxembourg domiciled subsidiary.
SG's issuance – 96% of which were autocalls – was mainly linked to equities and included 144 structures tied to single indices. Of these, the proprietary SBF Top 50 ESG EW Decrement 50 Points was the most frequently used (45 products).
BNP Paribas, in second, captured 18.5% of the market (Q1 2021: 19%). The bank issued 240 products, predominately through its BNP Paribas Issuance BV vehicle. All but three of its products were autocalls linked to equities.
Third placed Crédit Agricole held a 12.9% market share – down from 23.5% in Q1 2021. The group's 29 products, which collected estimated sales of €1.5 billion, were issued via LCL Emissions, Amundi and its corporate and investment bank (CIB).
Natixis increased its market share to 7.2%, up from 4.4% in Q1 2021. Its offering comprised of 54 autocalls and included nine products on the single stock iEdge Orange SA Decrement 0.8 EUR GTR Series 1 Index.
Credit Suisse, the highest ranking non-French group, completed the top five. The Swiss bank collected €750m from 94 products sold (6.6% market share).
Crédit Mutual CIC, Crédit Mutuel Arkéa, and La Banque Postale also made the top 10, with a market share of 1.1%, 0.7% and 0.4%, respectively, which meant that French institutions captured 76.4% of their local market in Q1 2022.
The other active issuer groups were Goldman Sachs, Morgan Stanley, Citi, Barclays and Leonteq.