Dekabank almost doubled its market share in a quarter which was marked by an influx of ESG decrement indices.
Some 5,757 structured products worth an estimated €4.3 billion were issued on the German primary market in the first quarter of 2022. Sales volumes increased by 96% year-on-year while issuance was up 16% (Q1 2021: €2.2 billion from 4,951 products).
Nineteen different issuer groups were active – a mixture of large German financial institutions and European/US investment banks – compared to 22 in the prior year quarter.
Landesbank Hessen-Thüringen, Morgan Stanley and Raiffeisen Switzerland, who had a combined market share of 2.2% in Q1 2021, did not issue any products this time around.
Dekabank was the number one issuer group in the quarter. The bank, which is the central provider of asset management and capital market solutions of the Sparkassen-Finanzgruppe, claimed a 40.8% share of the German market – an increase of 18.9% YoY.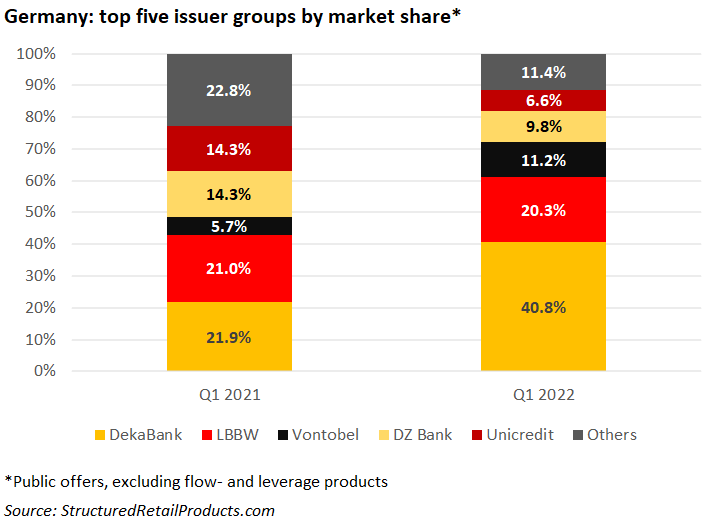 Deka sold 1,158 structured products in Q1, of which 87% were reverse convertibles. The Eurostoxx 50 was the most used underlying (339 products), but ESG decrement indices such as MSCI World Climate Change ESG Select 4.5% Decrement EUR Index (296) and MSCI EMU Climate Change ESG Select 4% Decrement Index (57) were also frequently used.
Landesbank Baden-Württemberg (LBBW), in second, captured 20.3% of the market (Q1 2021: 21%). The bank issued 836 products, including 33 structures on the idDax 50 ESG NR Decrement 4% PR EUR Index, for which it signed an exclusive licence agreement with Qontigo at the end of last year.
Across the German market, the number of products linked to an ESG underlying increased by 100%: from 264 products in Q1 2021 to 529 products in Q1 2022.
Third placed Vontobel held an 11.2% market share – up from 5.7% in Q1 2021. The Swiss structured product specialist issued 593 reverse convertibles, predominately on single stocks or a basket of shares.
DZ Bank (9.8% market share) launched 382 products in the quarter, including 341 with a knockout feature, while Unicredit (6.6% market share) completed the top five. The latter issued 2,119 products in the quarter – the highest issuance from a single issuer by some distance.
Credit Suisse (2.9% market share), BNP Paribas (2.2%), Société Générale (1.8%), UBS (1.3%), and Goldman Sachs (1.1%) were among the other issuers active in the quarter.