Citi replaced Barclays as the number one issuer group in the first half of 2022.
Some US$49.1 billion was collected from 16,324 structured products in the first half of 2022 – a five percent decrease in sales volumes compared to the prior year semester (H1 2021: US$15.6 billion from 15,831).
Average sales volumes stood at US$3m, slightly down on H1 2021 (US$3.3m).
Seventeen issuer groups were active in the semester – they were mixture of US, Canadian and European investment banks.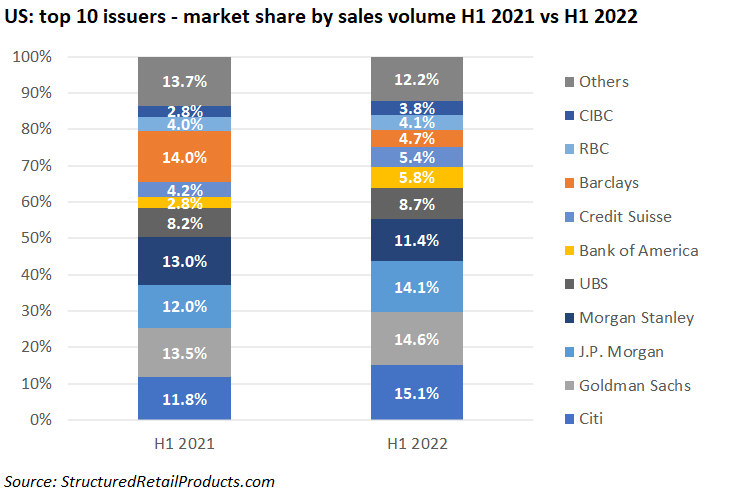 Citi was the most prolific provider during the semester, replacing Barclays as the number one issuer. The bank captured a 15.1% share of the US market with sales of US$7.4 billion from 2,561 products (H1 2021: US$6.1 billion from 1,893 products).
More than 75% of its sales volumes came from products linked to equity indices, including US$2.8 billion gathered from products tied to an index basket and US$2.7 billion from structures linked to a single index.
Citi's products were available, among others, via Morgan Stanley Wealth Management, Goldman Sachs Private Banking, First Trust Portfolios, Raymond James, and Incapital.
In second, Goldman increased its market share to 14.6% with sales of US$7.2 billion from 1,905 products while J.P. Morgan completed the top three, accumulating sales of US$3.2 billion from 3,480 products (14.1% market share).
Meanwhile, Barclays, which topped the issuers table in H1 2021, claimed a meagre 4.7% of the market this time around. It collected US2.3 billion from 555 products – down 68% in sales from the prior year period (H1 2021: US$7.2 billion from 1,382 products). All its products were sold during the first four months of the year.
Since 29 April, when it launched market-linked securities on the S&P 500 (via Wells Fargo), the UK bank has not issued any new products in the US.
Bank of America, which held a 5.8% market share, and CIBC (3.8% market share), were the only newcomers in the top 10, replacing Scotiabank and HSBC, respectively.