Barclays, Citi and Morgan Stanley have benefited the most from Investec's exit from the UK retail market.
Some 373 structured products worth an estimated £650m (US$793m) had strike dates in the UK in the first half of 2022 – up 20% by sales volume compared to the prior year period (H1 2021: £545m from 283 products).
Twelve issuer groups – a mixture of mainly UK, European and US investment banks – were active during the semester.
There was one notable absentee. Investec, which had been the number one issuer in H1 2021 (14.8% market share), no longer participates in the UK retail market. The Anglo-South African bank decided in early 2021 to shift its focus to its core services for financial advisers: discretionary fund management and managed portfolio services on platforms (MPS).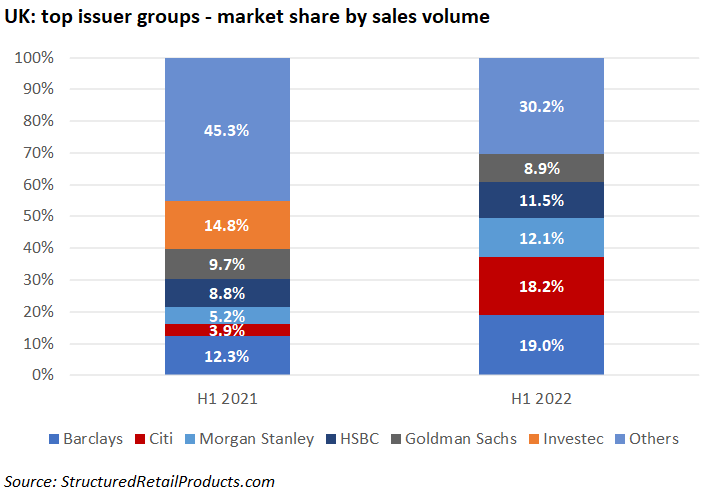 Barclays was the main issuer group with a 19% share of the UK retail market. It collected approximately £125m from 54 products, significantly up from the same period last year (H1 2021: £67m from 45 products).
The bank's offering, although predominately FTSE 100-linked (50 products), included three deposits tied to the Solactive Climate Change Europe BTI PR Index.
Citi was the surprise package, in second. The US bank, which issues its UK retail products on the paper of its Citigroup Global Markets Funding Luxembourg vehicle, increased its market share by more than 14%: from 3.9% in H1 2021 to 18.2% this semester.
Citi achieved sales of £120m from 58 kick-out plans (H 2021: £21m from 14 products). Its offering included the Fixed Dividend Autocall, a seven-year note linked to three single stock decrement indices. It was distributed via Hilbert Investment Solutions and sold £1.51 at inception.
Morgan Stanley was another bank that profited from Investec exiting the market. It claimed 12.1% market share – more than double that of H1 2021 (5.2%). The bank accumulated £80m from 46 products that were exclusively linked to equity indices.
HSBC captured 11.5% of the market while Goldman Sachs (8.9% market share) completed the top five. The latter issued its products via Goldman Sachs International London and the Goldman Sachs & Co. Wertpapier vehicle.
Other issuers active in the semester included Société Générale (8.3% market share), Crédit Agricole CIB (7.2%), Santander (4.2%) and BNP Paribas (2.8%).
Investec Structured Products stopped its activity in the UK retail structured products market after 15 years of activity in early 2021.
Disclaimer: data refers to public distribution products only.
Main image: Kings Church International/Unsplash.