Leonteq was the surprise package claiming almost 34% of the Swedish market in H1 2022.
Some SEK6.1 billion ($603m) was collected from 272 structured products during the first half of 2022 – an increase of 22% in sales volume year-on-year (H1 2021: SEK5 billion from 284 products).
Average volumes, at SEK22.8m, were up by more than SEK5m per product compared to H1 2021 when products sold on average SEK17.7m.
Ten different issuer groups, a mixture of Nordic financial institutions and European/US investment banks, were active in H1 2022, compared to 16 in the prior year semester. Handelsbanken, Barclays, Natixis, Investec, Crédit Agricole and Citi were all absent in the period.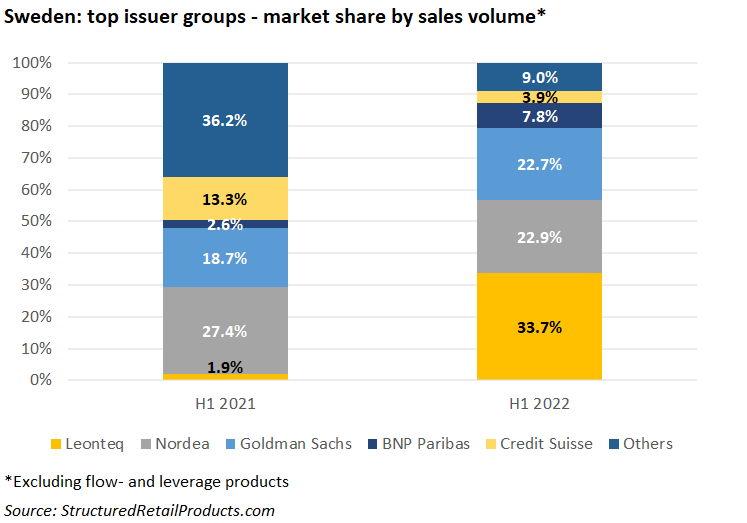 Leonteq was the surprise package with a 33.7% share of the market – an increase of almost 32% YoY.
The Swiss structured product specialist had been sporadically active in Sweden since 2014, but since the start of 2022 it has significantly increased its presence, issuing 26 private placements that were distributed via SIP Nordic Fondkommission (16), Sirius Asset Management (eight) and Garantum (two).
Its products were predominately linked to custom indices such as Leonteq Nordic Corporate Bond Fund 2% RC Index and Leonteq Mixed Allocation Funds 7% RC Index (six each).
In second, Nordea achieved 22.9% market share, down 4.5% from H1 2021. The Finnish financial services group collected SEK1.4 billion from 72 products (H1 2021: SEK1.4 billion from 58 products). Its offering included 21 credit-linked notes (SEK525m).
Goldman saw its market share grow by four percent to 22.7% in H1 2022. It accumulated SEK1.4 billion from 83 products that were almost exclusively distributed via Garantum.
BNP Paribas claimed 7.8% of the market (H1 2021: 2.6%) while Credit Suisse, which had captured 13.3% in the first half of 2021, had to make do with a mere 3.9% this year.
Deutsche, UBS, Danske Bank, Société Générale and Morgan Stanley were also active during the semester.
The products reviewed include both public offers and private placements.