Local issuer Pohjola Pankki kept the competition at bay by claiming more than a third of the Finnish market in H1 2022.
Some 156 structured products worth an estimated €375m (US$374.88m) were issued in Finland during the first half of 2022 – a 19% decrease by sales volume compared to the prior year period (H1 2021: €467m from 169 products).
Average volumes, at €2.4m, were also down, albeit slightly, compared to H1 2021 when products sold on average €2.8m.
Eleven issuer groups – a mixture of Nordic providers, European and US investment banks – were active during the semester (H1 2021: 11).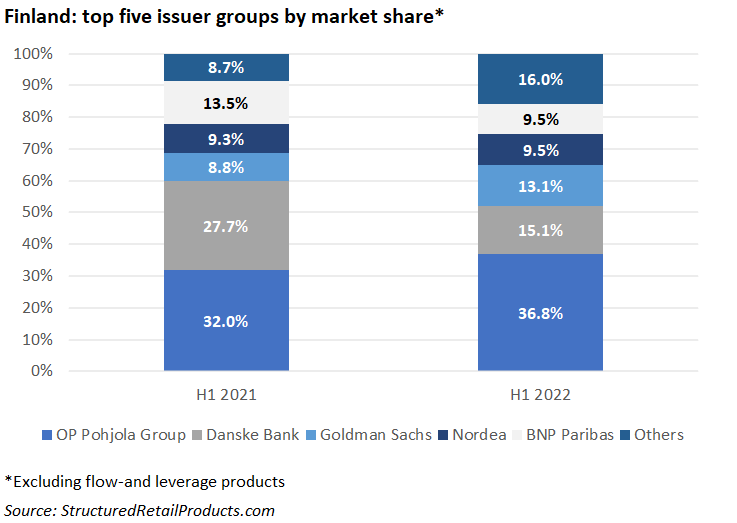 Finnish cooperative banking group OP was the number one issuer with a 36.8% share of the Finnish market – up 4.8% year-on-year (YoY). It collected €140m from 35 products that included Säästöobligaatio Pohjoismaiset Pankit IX/2022, a five-year capital-protected note on a basket of five Nordic banks (Nordea, SEB, Swedbank, DNB, Handelsbanken, Danske Bank), which, with sales of €26m, became the best-selling Finnish product of the semester. The products were distributed via the network of Pohjola Pankki.
In second, Danske Bank achieved a market share of 15.1% from 35 products worth an estimated €60m. The bank saw its market share decrease by 12.6% YoY. Its products were listed at Euronext Dublin and distributed, among others, via Alexandria, Elite Alfred Berg and UB Omaisuudenhoito.
Goldman Sachs was the third most active provider. The US investment bank captured 13.1% of the market (H1 2021: 8.8%) from selling 19 products worth approximately €50m. All of its products were linked to equities, and they were exclusively distributed via Alexandria.
Nordea issued 20 products worth €36m, enough to claim a 9.5% share of the Finnish market. Thirteen of its products were credit-linked notes (CLNs) that were linked to Markit CDX North America High Yield, Markit CDX North American IG Index and Markit iTraxx Europe Crossover.
BNP Paribas completed the top five, also with a 9.5% market share. The French bank sold 28 products including 17 that were linked to a single index.