The status quo remained in Italy with the same issuer groups making up the top five in H1 2022.
Some 1,466 publicly offered structured products (excluding flow- and leverage certificates) collected a combined €7.2 billion in the first half of 2022 – up 15% by sales volumes compared to the prior year period (H1 2021: €6.3 billion from 1,292 products).
Despite the increase in overall sales, average volumes, at €4.9m, were only slightly higher than those in H1 2021 when products sold on average €4.8m.
Twenty issuer groups – mainly Italian, European and US investment banks – were active in the semester (H1 2021: 20).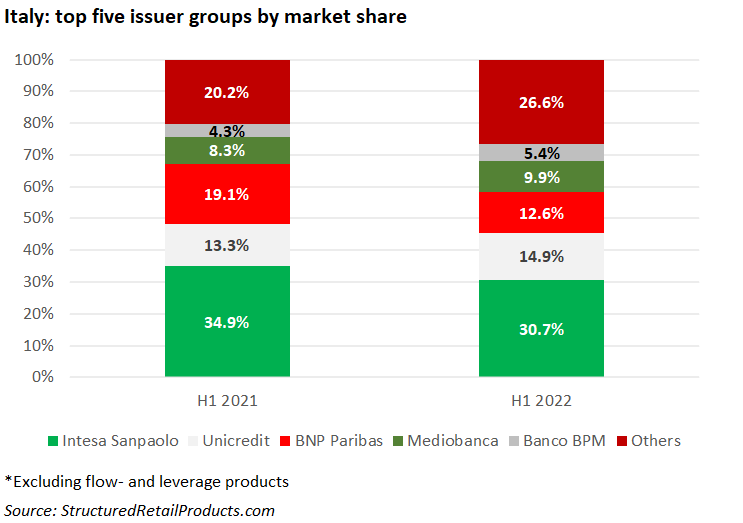 Intesa Sanpaolo was the main issuer group with a 30.7% share of the Italian market – down 4.2% from H1 2021. It achieved sales of €2.2 billion from 59 products.
Halve of the bank's sales came from products linked to a single index, of which the Eurostoxx Select Dividend (nine products), the Eurostoxx 50 and S&P 500 (four each) were the most frequently used.
Unicredit, whose main focus was on share baskets, claimed a 14.9% market share, up 1.6% from the same semester last year. The bank collected €1.1 billion from 119 products including the best-selling Protection Cap on the Eurostoxx Select Dividend 30 that sold €235m.
Figures for BNP Paribas, which captured 12.6% of the market, were negative (-6.5%) while Mediobanca's market share increased from 8.3% in H1 2021 to 9.9% this year.
Banco BPM completed the top five with a 5.4% share of the market (+1.1%) that was achieved from just 11 products sold (€386m).
Other issuers included, among others, Vontobel, Société Générale, Goldman Sachs, Leonteq and Banca Akros. The latter was the only newcomer in the top 10, which came at the expense of UBS.