Krung Thai Bank gained almost 21% in market share to become the top issuer in Thailand.
Some THB45.8 billion (US$1.2 billion) was collected from approximately 8,000 structured products in the third quarter of 2022 – up 144% by sales volume year-on-year (YoY).
Issuance increased by 87% YoY while average volumes, at THB5.7m per product, also increased from Q3 2021 when products sold on average THB4.4m.
Sixteen different issuer groups were active in the quarter (Q3 2021: 14), a mixture of local and regional banks, and securities houses.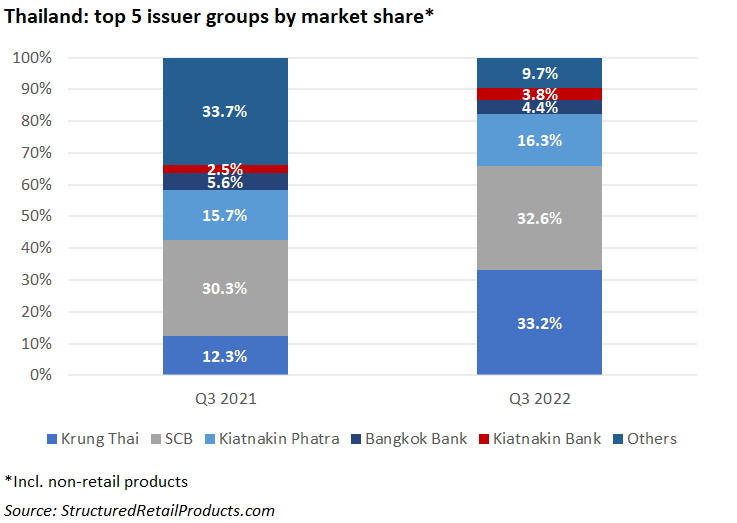 Krung Thai Bank was the number one provider claiming a 33.2% share of the Thai market – up from 12.3% in Q1 2021. The bank collected THB15.2 billion from 55 products, including 41 structures issued via its capital markets arm KT Zmico Securities. More than 80% of its volumes came from 10 products linked to the interest rates.
However, its best-selling product and also the overall top Thai seller of the quarter, was a dual currency note linked to the appreciation of the US dollar relative to the Thai baht (THB2.3 billion).
In second place, Siam Commercial Bank (SCB) gathered a 32.6% market share – an increase of 2.3% YoY. It sold THB14.9 billion from 3,536 products, the vast majority of which were sold via its InnovestX Securities subsidiary. Again, interest-linked products sold best, even though – by issuance – they were heavily outnumbered by equity-linked structures: 12 vs 3,518.
Kiatnakin Phatra Securities captured 16.3% market share from 2,287 products sold. Structures were mostly linked to shares – either on their own or as part of a basket.
Bangkok Bank's market share, at 4.4%, was slightly lower than the prior year quarter (-2.2% YoY). It achieved sales of THB2 billion from 612 Bualang Securities issued products, that were exclusively linked to single stocks – 43 in total. The shares of Indorama Ventures (55 products), SCB X (50) and Kasikorn Bank (44) were the most frequently used.
Kiatnakin Bank PCL completed the top five (3.8%).
Other active issuers included China Galaxy, CIMB, Kasikorn Bank, DBS and Globex.