Monex and BBVA continue to prosper in a market dominated by FX-linked products
Some MXN296.2 billion (US$14.7 billion) was collected from 5,359 structured products that were issued in Mexico during 2022.
Both sales volumes and product issuance were down compared to the previous year, by 4.2% and 5.9%, respectively (2021: MXN309.2 billion from 5,696 products).
However, average sales, at MXN55.3m per product, were slightly up from 2021, when products sold on average MXN54.3m.
Ninety-four percent of all sales came from products tied to FX rates compared to 76% in 2021.
There were four issuers active during the year (2021: five).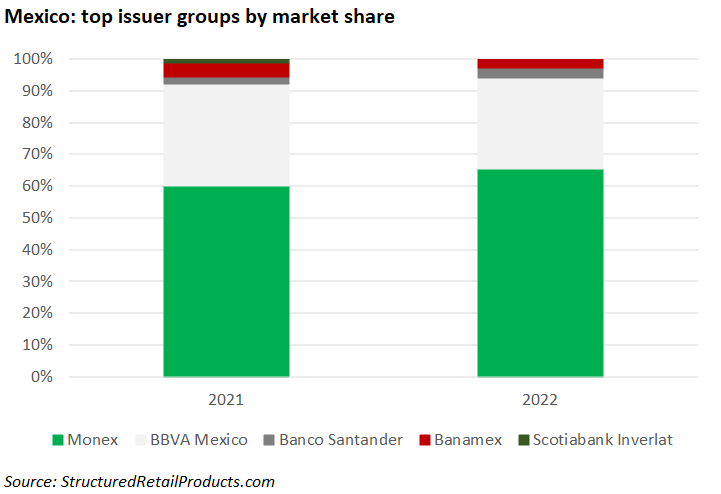 Monex remained the number one issuer in the market. The Mexican financial group claimed a 65.4% share of the market from 3,812 products that sold MXN193.7 billion between 1 January and 31 December 2021 – up 4.3% by sales volume from the previous year.
The company's products were a mix between certificates of deposit and structured bonds featuring accrual, range, digital and dual currency payoffs. All bar one of its products were linked to the appreciation of the US dollar relative to the Mexican peso. The exception was a range accrual note on the TIIE 28 (Mexico 28 day interbank interest rate).
BBVA México, in second, saw its market share decrease by 3.6 percentage points to 28.5%. It gathered sales of MXN84.4 billion from 1,207 products, which, apart from deposits and bonds, also included 60 warrants. Payoffs were a mixture of autocalls, range/accruals, dual currency and reverse convertibles.
In third place, Banco Santander held a 3.4% market share. It accumulated sales of MXN9.9 billion from 128 products. The bank was also responsible for the best-selling product of the year, which came in the shape of a dual currency note linked to the USD/MXN that sold MXN1.6 billion. If the dollar appreciates against the peso, the product offers 100% capital return plus a coupon of 12% pa, paid in MXN. Otherwise, the coupon is paid in USD at a 20.215 exchange rate.
Banamex collected MXN8.1 billion from 212 products, the equivalent of a 2.7% market share.
Meanwhile, Scotiabank Inverlat, which had accumulated sales of MXN3.5 billion from just 37 products in 2021 (1.1% market share) was no longer active this year.