Goldman retained its position as the number one provider, capturing more than 25% of the market in 2022.
An estimated SEK6.4 billion (US$610m) was collected from 395 publicly offered structured products during 2022 – down 23% by sales volume compared to the previous year (FY2021: SEK8.3 billion from 423 products).
Average volumes, at SEK15.8m, were down by SEK3.7m per product compared to 2021 when products sold on average SEK19.5m.
Fourteen different issuer groups were active in 2022 – they were a mixture of Nordic financial institutions and European and US investment banks (2021: 16).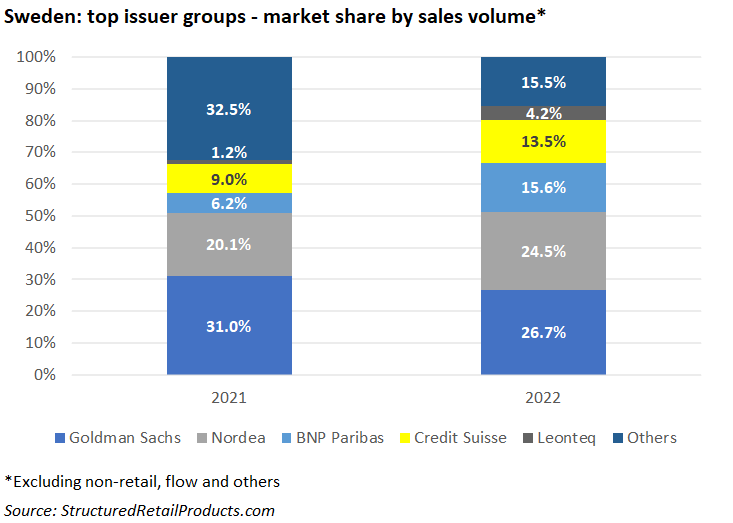 Goldman Sachs retained its position as the number one issuer with a 26.7% share of the market – a decrease of 4.3 percentage points year-on-year (YoY).
The US bank collected SEK1.7 billion from 109 products, the vast majority of which were distributed in collaboration with Garantum (2021: SEK 2.6 billion from 144 products).
Goldman's offering included Warrant Hedge nr 4514, a six-month structure on a basket comprising OMX Stockholm 30, S&P 500, and Eurostoxx 50, which with sales of SEK180m was the best-selling Swedish product of the year.
Nordea, in second, increased its market share to 24.5% – up 4.4 percentage points YoY.
The Finnish financial services group gathered SEK1.6 billion from 92 products that, apart from its own channels, were distributed via Garantum (38), Strivo (31) and Consensus Asset Management (two).
Third placed BNP Paribas accumulated sales of SEK990m from 59 products – the equivalent of a 15.6% market share, up from 6.2% in 2021. Approximately 50% of its volumes in the year came from credit-linked notes (CLNs).
Credit Suisse and Leonteq completed the top five. The former captured 13.5% of the market (2021: 9%) from 42 products which sold a combined SEK860m. Its structures included 2684 Marknadswarrant Hållbar Energi, a five-year warrant linked to the proprietary Global Energy Equity Fund 18% ER Index, which reflects a rule-based proprietary trading strategy that measures the performance of a mutual fund (Handelsbanken Hållbar Energi).
Leonteq held a market share of 4.2%, up from 1.2% in 2021.
UBS, Morgan Stanley, Deutsche Bank, Société Générale and Danske Bank were also active during the year.