Hana Financial became the number one issuer in a quarter where interest-linked products increased their market share by 16 percentage points YoY.
Some KRW16.5 trillion (US$13 billion) was collected from 4,190 structured products (excluding flow- and leverage) in the first quarter of 2023 – an increase of four percent by sales year-on-year (YoY).
Average volumes, at KRW4m per product, were also up from the prior year quarter (Q1 2022: KRW3.5m).
Approximately 79% of total sales was invested in 3,076 products targeted at retail investors with the remaining volumes coming from private placements.
Equity-linked products, especially those on an index basket, remained the preferred asset class of the Korean investor, despite losing 16% in market share: from 85% in Q1 2022 to 69% in Q1 2023. Interest-linked structures were the main beneficiary, increasing their market share to 25% (Q1 2022: 8.8%).
Twenty-three issuer groups – mainly local securities houses – were active during the quarter, the same number as in Q1 2022.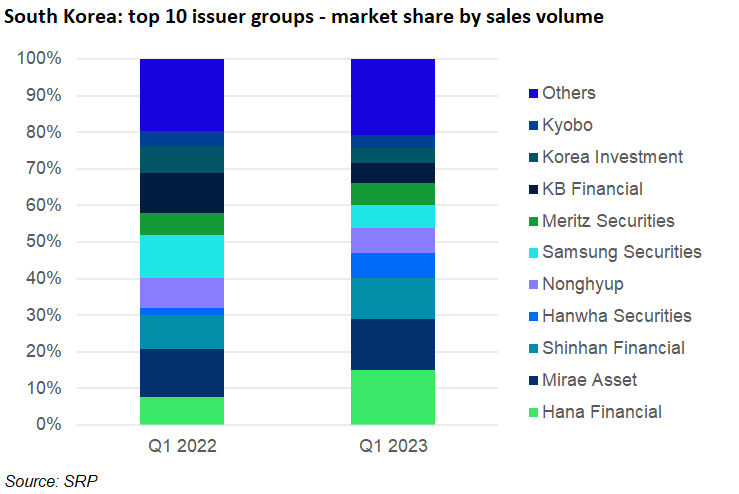 Hana Financial, the number one issuer, almost doubled its market share: from 7.6% in Q1 2022 to 15.1% this time around. The company launched 379 products worth KRW2.5 trillion, with most of its sales coming from products linked to either the interest rates or a basket of indices, although there was also KRW345 billion invested in nine credit-linked notes.
Mirae Asset, in second place, captured 14% of the Korean market in Q1 2023 – up 0.9 percentage points YoY. The firm achieved sales of KRW2.3 trillion from 361 products that included Mirae Asset ELB 3118, which with sales of KRW1.4 trillion was the best-selling Korean product of the quarter. The bond features the digital payoff and is linked to the share of Samsung Electronics and the Kospi 200. It returns minimum 106.1332% after one-year.
Shinhan Financial and Hanwha Securities – in third place and fourth place – both increased their market share, by 1.6 and 5.3 percentage points, respectively. The former gathered sales of KRW1.8 trillion from 464 products while Hanwha sold 207 products worth KRW1.2 trillion – 61% of which was invested in interest-linked structures.
Nonghyup completed the top five with a 6.7% market share – down from 8.4% in Q1 2022. The company accumulated sales of KRW1.1 trillion from 281 products, which were mostly equity-linked.
Its subsidiary NH Investment & Securities was responsible for the best performance of the quarter. NH Now ELS 34, a 1.5-year autocall linked to the shares of Advanced Micro Devices and Tesla, knocked out after nine months, returning 127.22% of the nominal invested. Goldman Sachs International was the derivatives counterparty for this product, which sold KRW3.8 billion at inception.