Worst-of stocks and single stocks took centre stage in a quarter that saw products linked to single equity indices lose significant market share.
An estimated PLN1.4 billion (US$335m) was collected from 40 publicly offered structured products in the third quarter of 2023 – down 32% by sales volume compared to the prior year quarter (Q3 2022: PLN2 billion from 30 products).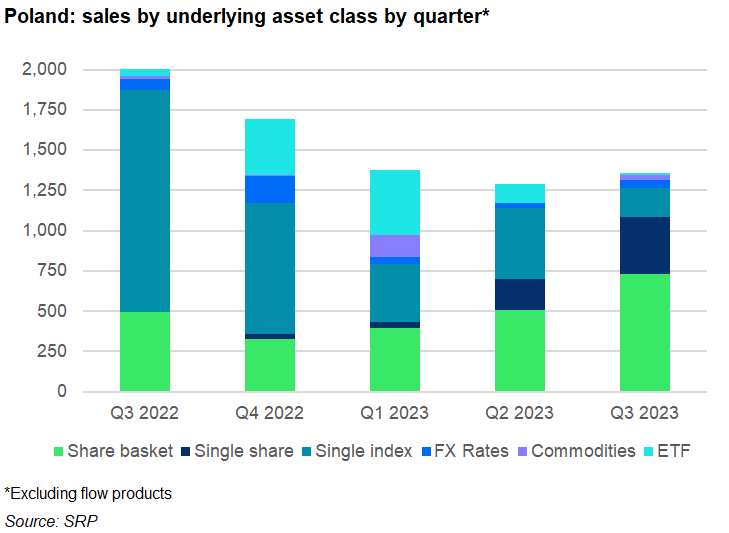 Products linked to a worst-of basket of shares captured 54% of the market – up 29 percentage points year-on-year (YoY) – ahead of those linked to single stocks and single equity indices, which claimed a market share of 26% and 13%, respectively.
The former, typically linked to two or three stocks, was seen in 17 products worth an estimated PLN731m, including 11 that offered a capital return of more than 100%.
An example of such product is Świat Motoryzacji which was launched by Bank Pekao in collaboration with Société Générale. The two-year euro denominated structure sold €7.8m (US$8.4m) during its subscription period and promises to return at least four percent on top of the nominal invested. However, an additional coupon of 8.30% is paid if the underlying shares of Toyota and Tesla close at or above their respective initial levels on the final validation date.
Structures on single stocks, which were not available at all during Q2 last year, gathered sales of around PLN350m from seven products this time around, and included offerings on the shares of Amazon, ASML and KGHM Polska Miedz.
Products linked to a single equity index, which with sales of PLN1.4 billion (from 13 products) held 69% of the Polish market in Q2 2022, saw their share drop to 13% this quarter. Seven products in total were issued on this asset class (PLN180m), including two linked to the MSCI World IMI Digital Health Select 5% Risk Control EUR Index – both issued on the paper of BNP Paribas.
Six products worth an estimated PLN50m were linked to FX rates, mostly the EUR/PLN and USD/PLN currency pairs, while two products were linked to commodities (PLN35m).
One product, Alior's PLN Apollon with Oxygen, was linked to an exchange-traded fund (ETF). The five-year autocall, which sold PLN12.3m, offered access to the iShares US Real Estate ETF.