Capital protected products – swapping coupons for upside
At the inception of the structured product market, capital protected notes were the most popular product type. They were attractive because of the simple concept and were made possible by higher interest rates than are seen today.
Capital protected products offer at maturity a minimum return of the initial capital invested, plus a potential upside linked to an equity market. The two basic pricing alternatives are:
a zero coupon bond + option combination; or
an interest rate swap + rolling short-term deposits + option combination
We will take the example of a product offering after five years a minimum capital return of 100% plus 100% of any rise in the Eurostoxx 50 over the investment period. The traditional way to build a guaranteed equity product would be to split the money received from the investor into two main building blocks: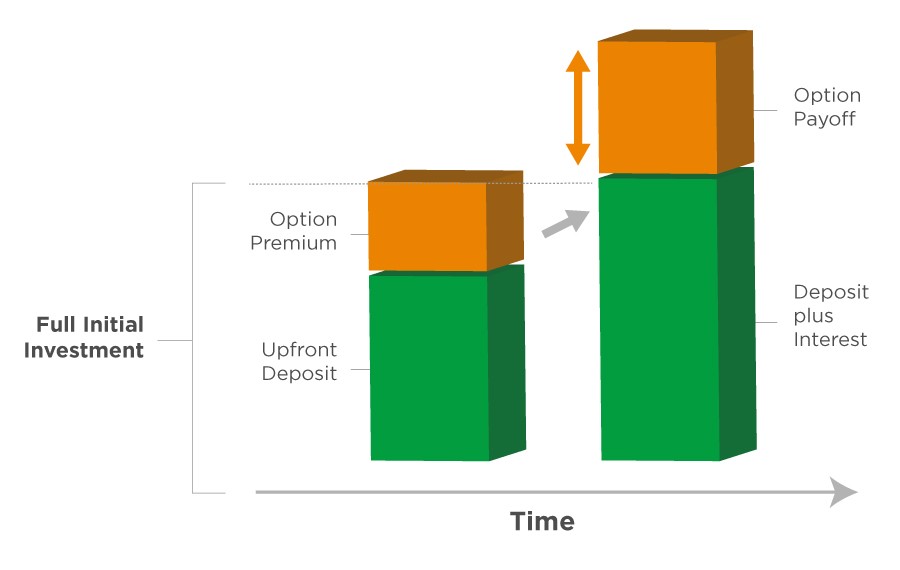 An upfront deposit also known as a zero coupon deposit or zero coupon bond, which is guaranteed (as long as the deposit taker or bond provider do not default on their obligations) to grow to 100% at the maturity date.
An option premium used to purchase at-the-money call options on the Eurostoxx 50, offering upside exposure. For example, if the Eurostoxx 50 was at a level of 2,500 at the start of the investment and rises to 3,500 after five years, the option will pay out the difference between the strike price (the initial index level of 2,500) and the final index level, resulting in a gain of 1,000 points (3,500 minus 2,500), i.e. the rise in the index over the investment period. Otherwise, if the index falls, the option expires worthless.
Key factors that influence pricing:
---