Domestic issuers dominated the Swiss market, with 14 local banks active in the first quarter of 2022.
It was a good quarter for the Swiss market with an estimated CHF11 billion (US$11.4 billion) collected from 19,553 products issued – significantly up, both by sales and issuance, compared to the same quarter last year (Q1 2021: €5.1 billion from 11,290 products).
Nineteen different issuer groups, including 14 local banks and providers, were active in the quarter – the same number as in Q1 2021, although back then there were only 12 Swiss providers active.
Payoffs were almost exclusively reverse convertibles, including 3,299 products with an autocall feature, while 65% of all products were tied to a worst-of basket of shares.
The combination of Nestle, Novartis and Roche, seen in 578 products, was the most frequently used share basket, followed by Baloise, Swiss Life and Zurich Insurance group (159). The preferred index basket for the Swiss investor comprised the Eurostoxx 50, S&P 500, and Swiss Market Index (477 products).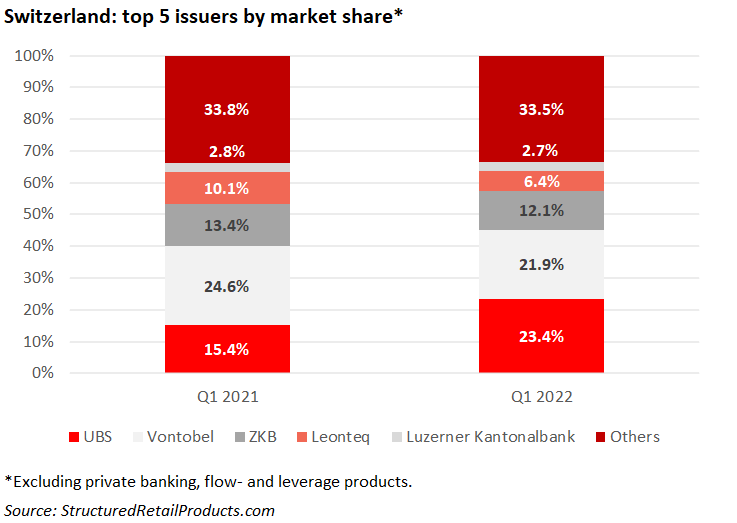 UBS was the number one issuer group in the quarter, claiming a 23.4% share of the Swiss market – an increase of eight percent YoY. The bank sold 5,162 barrier reverse convertibles in Q1, including 2,792 linked to a share basket and 2,238 tied to a single stock.
Last year's number one, Vontobel (in second), saw its market share drop slightly to 21.9% (from 24.6% in Q1 2021), despite issuing 25% more products, while third placed Zuercher Kantonalbank (ZKB) kept up with the pace, issuing 2,301 products in Q1 (12.1% market share vs 13.4% in Q1 2021).
Leonteq and Luzerner Kantonalbank, with a 6.4% and 2.7% market share, respectively, completed the top five.
Other Swiss issuers in the quarter included Julius Baer, Banque Cantonale Vaudoise, Credit Suisse, Basler Kantonalbank, Cornèr Bank, Bank Sarasin, EFG, Raiffeisen Switzerland and Swissquote.
The only foreign entities that were active during the quarter were Société Générale, Goldman Sachs, and Barclays, although with a combined market share of 3.13%, their impact was negligible.