Nordea took the number one spot from Goldman in a quarter that saw BNP Paribas increase its market share by more than 15%.
Some 77 publicly offered structured products sold an estimated SEK1.3 billion ($116m) during the third quarter of 2022 – a 43% decrease in sales volumes from the prior year period (Q3 2021: SEK2.3 billion from 117 products).
Average volumes, at SEK16.7m, were down by SEK2.6m per product compared to 3Q 2021 when products sold on average SEK19.3m.
Ten different issuer groups, a mixture of Nordic financial institutions and French, Swiss and US investment banks, were active in Q3 2022, compared to nine in the same quarter last year.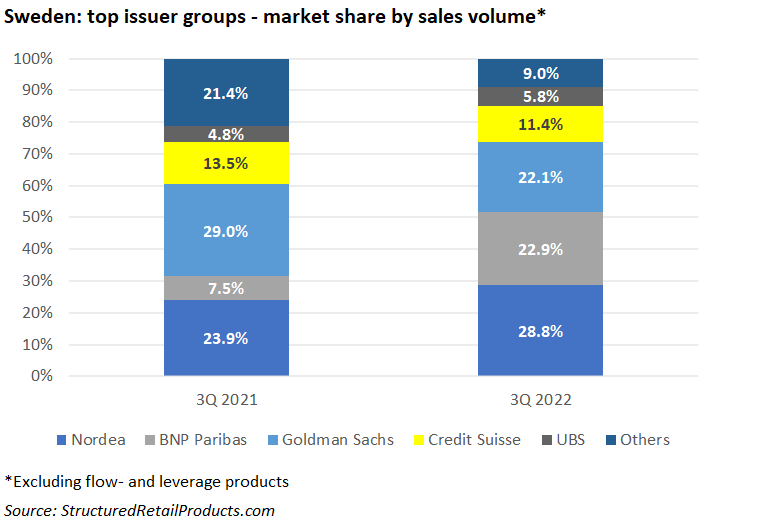 Nordea was the number one issuer group with a 28.8% share of the market – an increase of almost five percent year-on-year (YoY).
The Finnish financial services group collected SEK370m from 16 products that, apart from its own channels, were distributed via Garantum (seven) and Strivo (five). Approximately 50% of its volumes in the quarter came from credit-linked notes (CLNs).
In second, BNP Paribas increased its market share to 22.9% – up 15.4% YoY. The French bank was the manufacturer behind 15 products that were worth an estimated SEK295m. Its offering included the best-selling Kreditcertifikat Investment Grade Europa Kvartalsvis nr 4542, a five-year CLN on the Markit iTraxx Europe Index series 37 that was distributed via Garantum and sold SEK45.1m during its subscription period.
Goldman, the top issuer in Q3 2021, achieved estimated sales of SEK285m from 16 products – the equivalent of a 22.1% market share, down 6.9% YoY. Its structures – exclusively linked to share baskets – were distributed via Garantum (17) and Strivo (two), respectively.
Credit Suisse captured 11.4% of the market, a decrease of 2.1% YoY, while UBS held a market share of 5.8%, up from 4.8% in Q3 2021.
Société Générale, Natixis, Leonteq, Crédit Agricole and Morgan Stanley were also active during the period.