Goldman held more than 54% of the Norwegian market in 9M 2022, keeping the competition at bay.
An estimated NOK750m (US$75.1m) was collected from 51 publicly offered structured products during the first nine months of 2022 – a 23% decrease in sales volumes from the prior year period (9M 2021: NOK975m from 48 products).
Average volumes, at NOK14.7m, were down by NOK5.6m per product compared to 9Q 2021 when products sold on average NOK20.3m.
Seven different issuer groups, a mixture of Nordic financial institutions and French, Swiss and US investment banks, were active in Q3 2022, compared to four in the same period last year.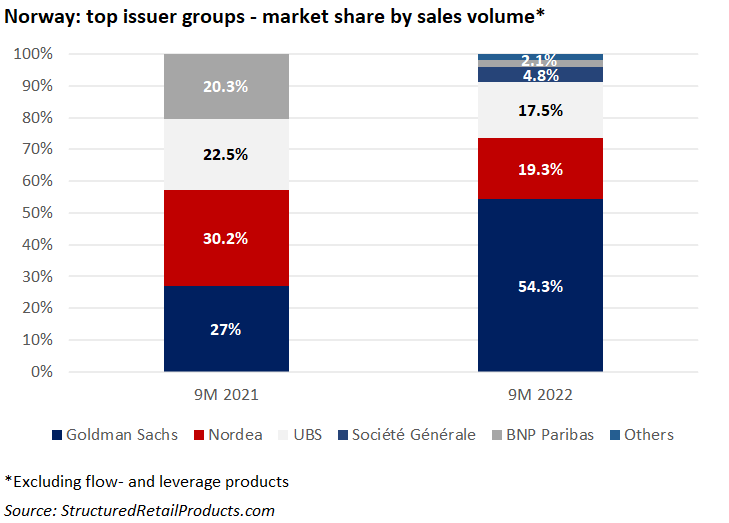 Goldman Sachs was the number one issuer group with 54.4% of the market – more than doubling its share compared to 9M 2021.
The US investment bank was the manufacturer behind 25 products – just under 50% of all products issued in the period. Almost all its products were autocalls linked to a basket of shares, of which those of Yara International (eight products) and Salmar (six) were the most frequently used.
Nordea, the top issuer in 9M 2021, saw its market share decrease to 19.3% – down 10.9% year-on-year (YoY). The Helsinki headquartered financial services group issued nine products, including five autocalls and four credit linked notes.
UBS, in third, captured 17.5% of the market (-5% YoY). Like Nordea, the Swiss bank also issued nine products. Its offering comprised 100% of autocalls and included Autocall Nordiske Selskaper Low Trigger Kvartalsvis Pluss/Minus nr 4372 which, with sales of NOK32.3m, was the best-selling product in the period.
Société Générale, which was not active in 9M 2021, claimed a 4.8% market share from four products sold while fifth placed BNP Paribas, which held 20.3% of the Norwegian market last year had to make do with a mere 2.1% this time around.
Credit Suisse and Natixis, with one product each, were also active during the period.
Image credit: Yagnik/Adobe Stock