It was a year of fine margins in the US where the top three issuer groups were separated by 1.3 percentage points only.
Some $93.7 billion was collected from 31,416 structured products in 2022 – the second highest annual sales figure since the launch of the SRP US database in 2005.
In fact, only in 2021, when the $100 billion barrier was breached, products sold more ($101.1 billion from 31,614 products).
Seventeen issuer groups were active during the year – they were mixture of US, Canadian and European investment banks.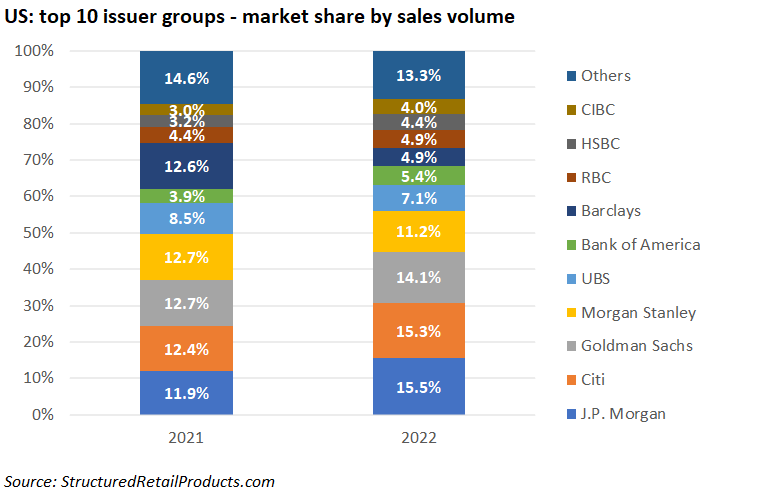 J.P. Morgan replaced Goldman Sachs as the number one issuer in 2022. The bank claimed a 15.5% share of the US market with sales of $14.5 billion from 7,297 products (2021: $12.1 billion from 5,112 products).
More than 40% of its sales volumes came from products linked to a single equity index with the S&P 500 the most popular by far. Structures linked to the US benchmark gathered a combined $4.6 billion while products tied to its proprietary MerQube US Tech+ Vol Advantage and MerQube US Large-Cap Vol Advantage indices collected $75m and $60m, respectively.
In second, Citi increased its market share to 15.3% – up 2.9% from 2021. The bank achieved sales of US$14.3 billion, slightly behind J.P. Morgan, although Citi achieved its volumes from far less products issued (4,919).
Goldman Sachs dropped to third place, despite increasing its markets share by 1.4% to 14.1%. It gathered sales of $13.2 billion from 3,590 products, and although structures on single indices were again the preferred option for its clients, products on single stocks were also in demand. Its Fixed Rate Notes (40057PBH4) on the common stock of Nike became the bank's biggest seller of the year with sales of $300m.
Last year's number two Morgan Stanley (11.2% market share) and UBS (7.1%) completed the top five.
Barclays, which captured 12.6% of the US market in 2021, saw its market share drop to 4.9%. The UK bank suspended the sales of structured notes for three months in 2022 after over issuance of securities in the US market.