Local cooperative banking group OP kept the competition at bay as it remained the number one issuer for the fourth year in a row.
After disappointing sales for much of the year, the Finnish structured products market ended 2022 on a high.
Driven by a sharp rise in volumes for interest-linked products in the final quarter, sales reached €1.2 billion (from 405 products) at the end of December – up 24% year-on-year (YoY). It was the highest sales figure since 2015 when €1.3 billion was collected from 500 products, according to SRP data.
Average volumes, at €3.1m, were also up compared to 2021 when products sold on average €2.6m.
Fourteen issuer groups were active during the year (2021: 17). They were a mixture of Nordic institutions, European and US investment banks.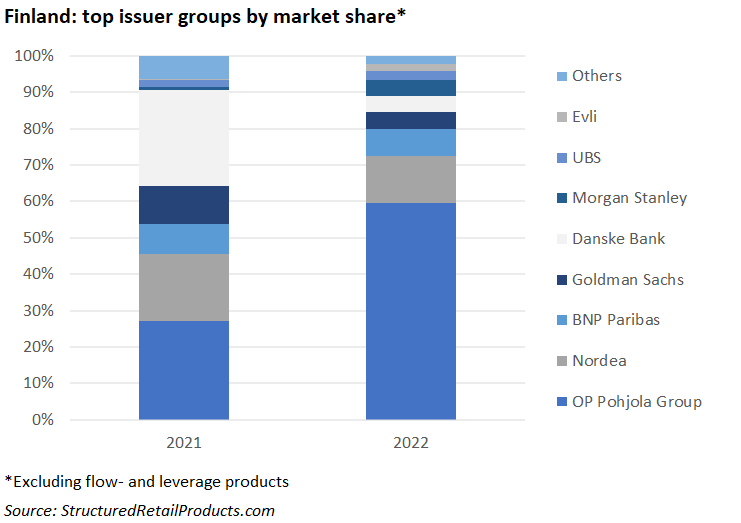 Finnish cooperative banking group OP was the number one issuer for the fourth consecutive year. It held a 60% share of the market – up 33 percentage points YoY. It collected €740m from 93 products, an increase of 175% by sales volume compared to 2021 when it gathered €270m from 57 products.
OP's offering included OP Säästöobligaatio Korkoputki 1 v XXV/2022, a one-year capital-protected note linked to the six-month Euribor, which, with sales of €124m, became the best-selling Finnish product of all time. The products were distributed via the network of Pohjola Pankki.
In second, Nordea achieved a market share of 13% from 101 products worth an estimated €160m (2021: €185m from 93 products). A large chunk of the bank's volumes came from credit-linked notes (CLNs).
BNP Paribas was the third most active provider. The French investment bank captured seven percent of the market (2021: 8%) from selling 71 products worth approximately €90m. BNP was also strong on credit, issuing 36 CLNs, while a further 30 products were linked to a single equity index, of which the Solactive Europe & US Top Pharmaceuticals 2020 AR 5% Index was the most often used (nine products).
Goldman issued 32 products worth €60m, enough to claim a five percent share of the Finnish market. Its products were all equity-linked and exclusively distributed via Alexandria Markets.
Danske Bank completed the top five with a four percent market share. The bank sold 36 products, mostly linked to equities, that were worth €55m.
Other issuers active in the year included Morgan Stanley, UBS, Evli, Credit Suisse, Barclays and Société Générale, among others.