Traditional market cap indices continue to dominate as they captured 70% of all sales for products linked to a single index in 2022.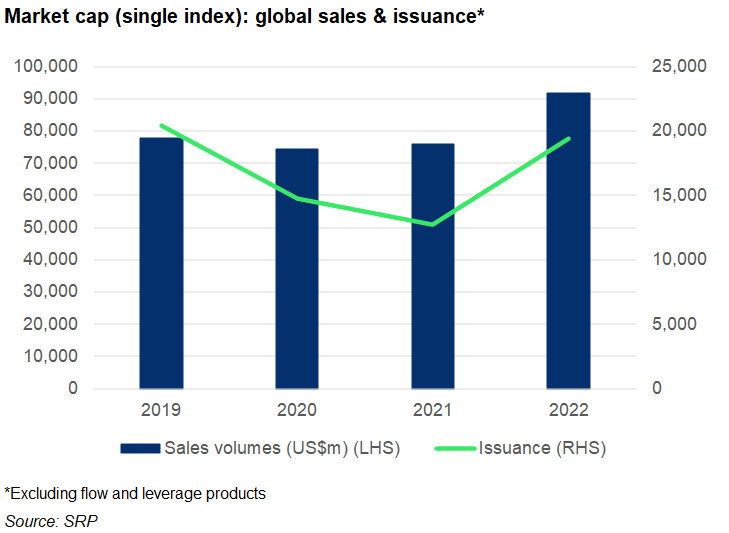 Sales for structured products linked to a single market cap index spiked in 2022. Having been around the US$75 billion mark during 2019 – 2021, volumes reached US$91.7 billion in 2022 – an increase of 21% year-on-year (YoY), and the equivalent of a 70% market share when considering the single equity index asset class.
Market cap-linked issuance in 2022, at around 19,400 products, was up 53% from the low of 2021 when 12,700 products were tied to a single market cap index. Issuance in 2019 and 2020 stood at 20,400 and 14,725, respectively.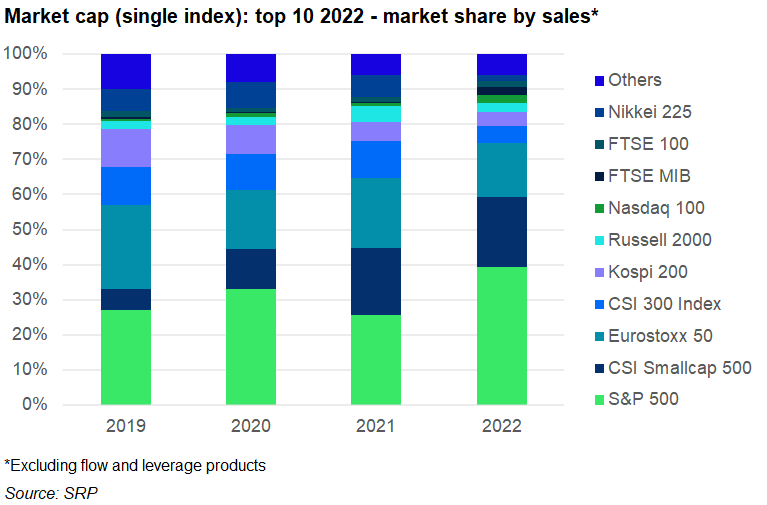 The S&P 500 was the number one market cap index in 2022. It was used as a single index in almost 9,000 structured products worth an estimated US$36 billion during the year (2021: US$19 billion from 4,135 products).
In the US market alone, some US$32.3 billion was gathered from 6,400 products linked to the S&P 500, well ahead of the volumes invested in other market cap indices such as the Russell 2000 (US$2.3 billion from 542 products), Nasdaq-100 (US$1.6 billion from 377 products) and DJ Industrial Average Index (US$955m from 210 products).
Structures tied to the CSI Smallcap 500 and CSI 300 Index collected US$18.4 billion and US$4.3 billion, respectively, and were mostly targeted at investors in China, with a smattering of products available in Switzerland, France and Germany.
The 5,000 plus products on the Eurostoxx 50, which were sold across 22 different jurisdictions, accumulated combined sales of US$14.3 billion (2021: US$14.5 billion). By issuance, Germany was the main market for the European benchmark (3,100 products) which achieved the highest sales in France (US$5 billion).
The Kospi 200 (US$3.7 billion in 2022 vs US$4.2 billion in 2021) was exclusively used in its domestic market South Korea while the FTSE MIB and FTSE 100 also mostly attracted interest from local investors. The former collected US$2 billion from 52 products issued in Italy – an 11-fold increase compared to US$160m (from 18 products) the previous year.
The FTSE 100 meanwhile sold US$1.5m in the UK (2021: US$980m) with Poland the only other market with sales of note (US$230m).
The Nikkei 225 completed the top 10. It sold US$1.5m (119 products), down 70% by sales volume YoY, driven by significantly lower sales in its home market Japan (US$1.3 billion in 2022 vs US$4.8 billion in 2021).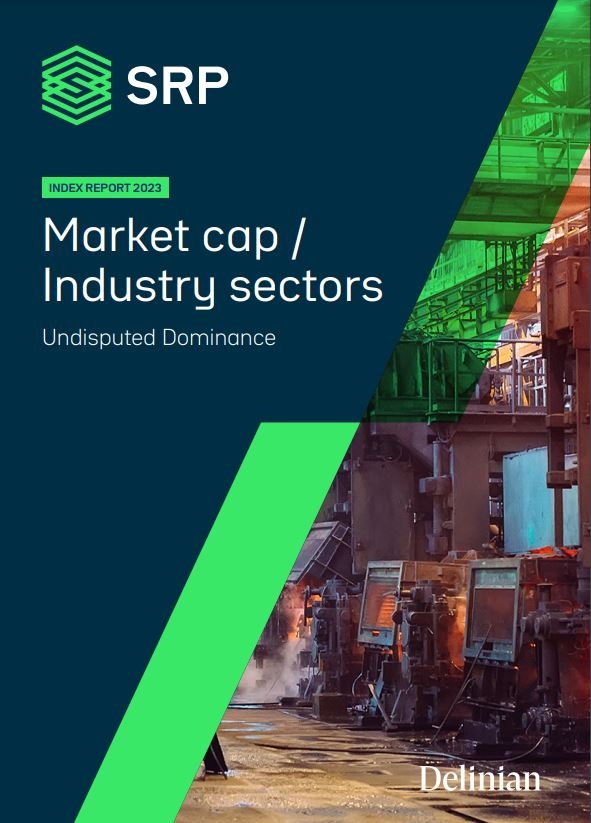 SRP has launched the SRP Market Cap/Industry Sector Index Report, which is the second of four chapters that will be released throughout the year and will comprise the SRP Index Report 2023. It is available for download here.